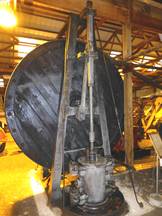 VACUUM PUMP
This vertical "A" frame vacuum pump was built by Masseth and Black of Butler, PA in the early 1900s. The nine foot wooden wheel has connecting rods to cross heads that operate the twin vacuum cylinders mounted on the base. It was used to apply suction to oil wells to draw more crude oil out of the sand and into the well. Usually the vacuum cylinder or "pot" operated from the walking beam that pumped the well. It was used near Karns City, PA and was very successful.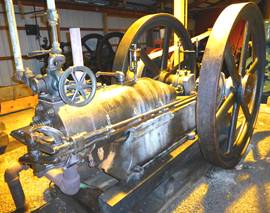 EVANS, COMMERCIAL STYLE
This 25 hp engine represents Evans, of Butler, PA, commercial style engine. Note the power operated intake valve, as well as the exhaust. It nicely drives our Masseth & Black vacuum pump shown above. It is throttling governed and hot tube ignition. It originally was located in Fairview, PA in a pressure plant. It was only a few miles away from the vacuum pump.
OIL CITY BOILER WORKS
This eight hp engine was built by the Oil City Boiler Works of Oil City, PA. It has a pendulum hit and miss governor and is complete with original hot tube chimney cap and cast iron cylinder oiler. This engine dates to the early 1900s. It originally pumped a rod line power on the Norway Lease of President Oil Company near President, PA. It came to the museum in the mid-1970s.