BROWN
Designed in 1895 by John O. Brown, these engines were first built in Columbus, Ohio, but after 1902 were built by the Brown-Cochran Co. of Lorain, Ohio. This 12 hp engine is circa 1905 and used to operate a grain elevator and feed mill near Chicago, Illinois. It is one of the first engines to govern by holding the exhaust valve open and runs well on gas or gasoline. It came to the museum in the late 1970s.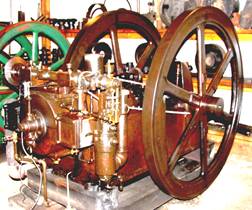 SPRINGFIELD MODEL A
This engine was built by the Springfield Gas Engine Co. of Springfield, Ohio, about 1895. It features a distinctive design with overhead cam shaft and gasoline injection. This 8 hp model was used on the Bomberger Farm near Manheim, Pennsylvania. The barn and engine burned in 1914 giving the unique blue finish to the bright work. It was restored and continued operation until John Wilcox bought it in 1963.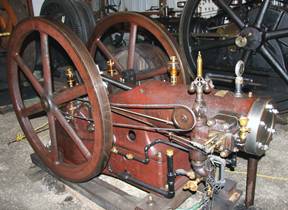 WATKINS
This 8 hp engine, circa 1898, was built by the Frank M. Watkins Mfg. Co. of Cincinnati, Ohio. It was one of the first to use a throttling governor. Early engines were built by H.W. Sumner of Covington, Kentucky, who also built the magneto. This engine drove a printing press in northern Vermont and was later used in a sawmill where it was found in 1970.