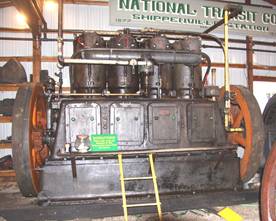 TURNER FRICKE
This large engine was built in Sharon, Pennsylvania, about 1913 and originally was one of three that provided electricity to the Roystone Station of the Pennsylvania Gas Company located near Sheffield, Pennsylvania. It is interesting to note that this is the same location our Snow engine came from. It came here in the mid-1970s. Having 13 x 13 cylinders, this machine produces 150 hp at 277 rpm.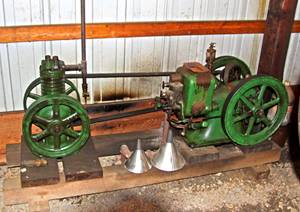 MOGUL AND COMPRESSOR
This one hp Mogul engine was found on a farm near Fairview, West Virginia, in 1967 where it was direct coupled to a Bean sprayer. It is circa 1915. Here it belt drives an air compressor that can produce the starting air for the Turner Fricke. It takes the Mogul about three hours to fill the two large tanks outside to the needed 125 psi.