---
This Month at Coolspring Power Museum: June 2017
Coolspring Power Museum is open during three days this month for our Exposition & Flea Market. The museum is open on June 15, 16, and 17 (Thursday, Friday, and Saturday) for this Special Event and our hours are 7 AM to 8 PM all three days. Please see our Events page for information about the Exposition, including admission details. Also, please note that the museum is closed on June 18 (Sunday).
Exhibitors and Vendors: Please see our Events page and review the Museum Safety Rules and Museum Ground Rules, which include information about grounds access and setup days and times for the Exposition.
Coolspring Power Museum is dedicated to internal combustion engines. This month, however, we are highlighting a fascinating group of external combustion "hot air engines" at our Exposition. In this month's edition of The Flywheel, our online publication, Paul Harvey concludes his series on the history of hot air engines.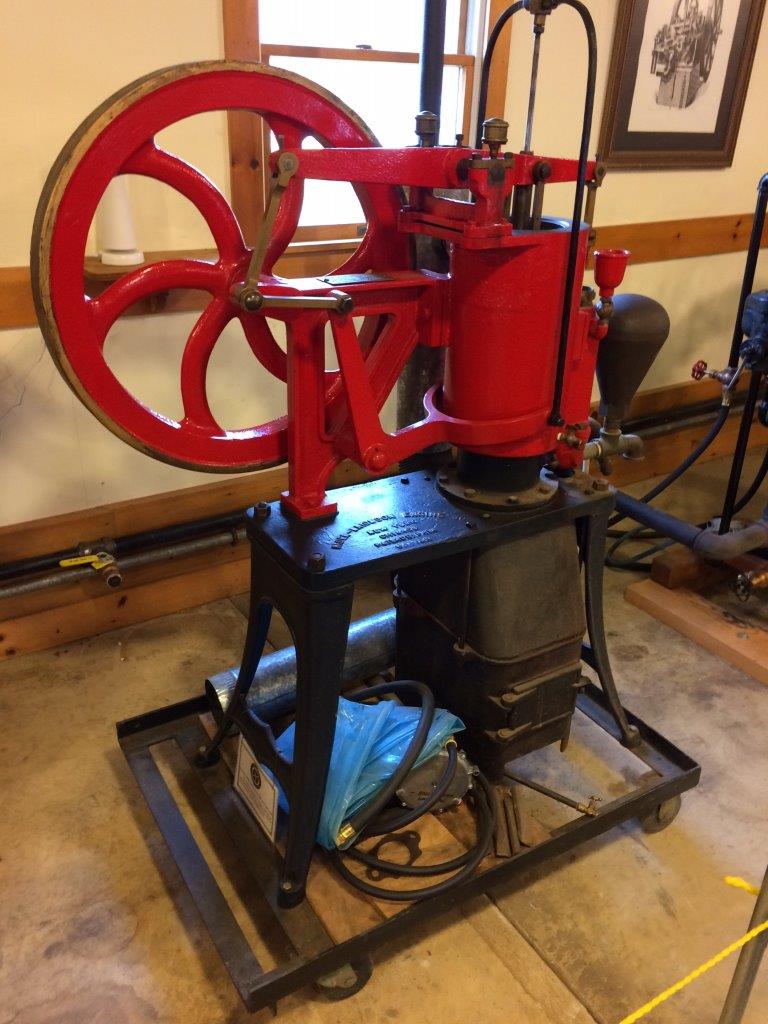 Also this month, The Rider-Ericsson Engine Company: A Short History, Volume 23 of our Bores & Strokes booklets, is available for over-the-counter purchase at the museum gift shop. Author Brent Rowell presents a history of the Rider-Ericsson Engine Company and an overview of the many types of external combustion "hot air engines" it produced. Please see our Publications page for information regarding Bores & Strokes and other Coolspring Power Museum publications.
---
In Progress at Coolspring Power Museum
We're delighted to announce that Wayne Grenning recently brought his full-scale replica of the 1867 Otto Langen engine to Coolspring for display in Preston Foster Hall.
This exquisite machine is the result of many years of experience Wayne gained by building smaller-scale versions of these engines. The engine has a 5.9-inch bore and 34-inch stroke. Overall, it is about 10 feet tall and, with its 50-inch flywheel, weighs about 2650 pounds. Otto Langen engines of this size were rated at approximately 1/2 horsepower.
This photo shows Wayne (left) with his engine running in Preston Foster Hall and with several friends from France who were visiting the museum.
---
Now Available from Coolspring Power Museum
Flame Ignition: A Historical Account of Flame Ignition in the Internal Combustion Engine by Wayne S. Grenning.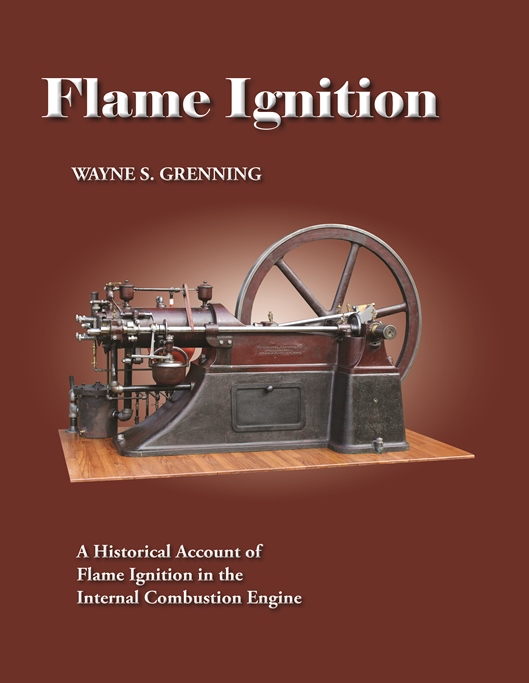 This book is a scholarly work describing flame ignition as applied to reciprocating engines, from early experiments to later successes such as the Deutz and Crossley versions of the four stroke cycle perfected by Otto in 1876. Wayne discusses problems encountered by the early entrants into the gas engine industry, highlighting solutions discovered by the various players. He also goes into more arcane subjects like the constant pressure cycle introduced by Brayton that survives today in the gas turbine engine, to a look at toy non-compression engines produced during the same early days as their full size brethren. In eight chapters, Wayne shows details of engines built by Clerk, Sombart, Forest and others, gives technical details on the construction and operating features unique to flame ignition engines, and highlights the struggles other manufacturers endured to avoid infringing the Otto patents. The section on the four-stroke-cycle engines is by itself over 300 pages long, covering 30 different companies. It has 67 pages describing the activities of Crossley Brothers in Manchester, England and another 53 pages dedicated to Gasmotoren Fabrik Deutz from Cologne, Germany.
Regular hard bound edition, 875 pages, $79.95 + shipping and handling. Special leather bound edition, $149.95 + shipping and handling. Limited printing. The book is printed in color on semi-gloss paper for enhanced picture reproduction. Book size is 8½ x 11 inches with dust jacket. Please see our Publications page for ordering information.
About the Author: Wayne Grenning has been interested in engines for decades and has restored many early engines, flame ignition and otherwise, as well as creating operating scale and full size models of a variety of early flame ignition and non-compressing engines. A fixture at Coolspring during the shows, Wayne has gathered all of his knowledge together into this book as a technical and historical reference to this important chapter in internal combustion engine history.
---
The Coolspring Power Museum Collection
Internal combustion engines revolutionized the world around the turn of the 20th century in much the same way that steam engines did a century before. One has only to imagine a coal-fired, steam-powered, airplane to realize how important internal combustion was to the industrialized world. While the early stationary gas engines were more expensive than the equivalent steam engines, they did not require a boiler and were cheaper to operate.
The Coolspring Power Museum collection documents the early history of the internal combustion revolution. Almost all of the critical components of today's engines have their origins in the period represented by the collection (as well as hundreds of innovations that are no longer used). Some of the engines represent real engineering progress. Others are more the product of inventive minds avoiding previous patents. All tell a story. There are few duplications in the collection and only a couple of manufacturers are represented by more than one or two examples.
The Coolspring Power Museum contains the largest collection of historically significant, early stationary gas engines in the country, if the not the world. With the exception of a few items in the collection that were driven by the engines, such as compressors, pumps, and generators, and a few steam and hot air engines shown for comparison purposes, the collection contains only stationary internal combustion engines.
The collection consists mainly of stationary gas engines used in industrial applications. There are only a few marine, automotive, and farm engines in the collection and the museum does not plan to expand its focus into those areas. Most of the museum's acquisitioning efforts (those that involve substantial expenditure of funds and volunteer time) have been focused on collecting important large stationary engines that most likely would be scrapped if the museum did not acquire them.
The museum's passive collecting efforts are directed at filling technological gaps in the collection by accepting donations from private collectors and occasionally other museums. The museum also maintains a substantial library and archive related to the objects in the collection and to the internal combustion engine in general. The Collection consists primarily of engines built in America because that is what was available to the museum. However, the technology on which they are based comes from both sides of the Atlantic.
The American Society of Mechanical Engineers recognizes Coolspring Power Museum as a Mechanical Engineering Heritage Collection. Please see our History page for more information.
---