MAN Air-Blast Injection Diesel Engine Exhibit
The Coolspring Power Museum volunteers are embarking on a very exciting project to restore our MAN air-blast diesel engine to operation and to provide an appropriate display area for it. It will be the oldest operating diesel engine in existence.
We need your support to complete this important project.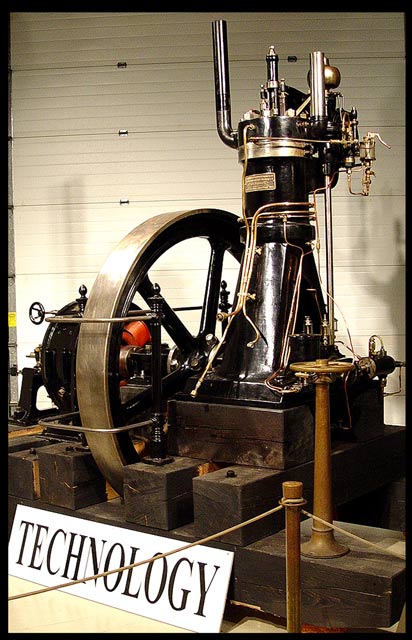 The MAN is a diesel engine in that it uses air heated by compression in the cylinder to ignite fuel injected directly into the cylinder. Modern diesel engines use "solid injection" where liquid fuel is directly pressurized and sprayed into the cylinder. Before the successful development of solid injection, the MAN and early engines like it used high-pressure air to inject and atomize the fuel. This class of engines became known as "air-blast injection" engines.
The MAN air-blast diesel engine is serial number 185 and was built in Augsburg, Germany, in 1903. It was sold to Siemens and Halske of Hamburg, Germany, to be fitted with a direct current generator. Please read our detailed description of the engine for additional information.
On March 16,1903, it was shipped to the North Sea island of Heligoland where it powered a lift, or elevator, to take passengers from the southeast coastal plain and beach to the higher central part of the island.
The height of this lift was 50 meters. In the photo on the left note the staircase for scale. The MAN and its generator were housed in a building at the base of the lift. It served faithfully until 1928, when Henry Ford purchased it for his museum in Dearborn, Michigan.
It was fortunate that the engine and generator found a new home in Michigan. During World War II, Heligoland was the target of an intense bombing campaign by the British Royal Air Force in April 1945. The lift and much of the surrounding infrastructure were badly damaged or destroyed.
The MAN was proudly displayed at the Henry Ford Museum for many years until it was de-accessioned by the museum. It went through several collections, including a period at the Owls Head Transportation Museum in Rockland, Maine. Then a benevolent donor placed it at Coolspring Power Museum.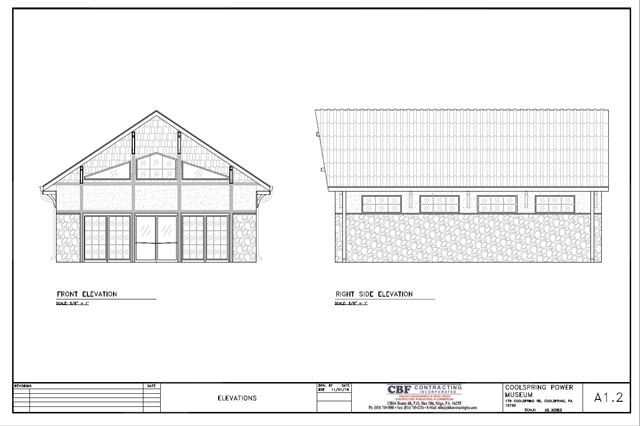 Our goal is to bring this historic engine back to running condition for the education and enjoyment of our visitors. In addition refurbishing the engine, we will be constructing a "period correct" building to house this engine. The photo above shows a concept for the building. In fact, there will be three additional museum-owned engines added later as expansions to the air-blast injection engine exhibit continue.
You can participate in the funding of this project in several ways with your tax-deductible donation! Please consider making a financial contribution to support the MAN project. Visit our Contribute page for more information on financial contributions and to obtain a copy of our Contribution form.
We offer the option to contribute to the MAN engine project via PayPal. Click the Donate button below to begin your donation transaction.
A "GoFundMe" account has been established and you may make your contribution via this link: https://www.gofundme.com/f/coolspring-power-museum-man-engine-exhibit
Or, when you make purchases through Amazon please select CPM (AmazonSmile) https://smile.amazon.com as your charity of choice.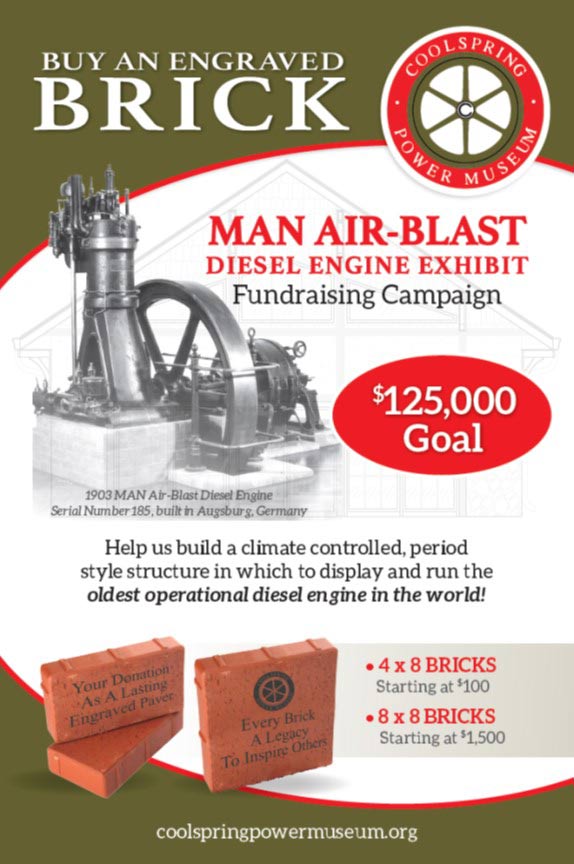 We are also offering you the opportunity to contribute to the project by purchasing donor bricks engraved with your personal message that will become part of the new building. Bricks are available in 4x8-inch format and in 8x8-inch formats with denominations from $100 to $10,000. Please use these links to obtain the printable order form for your choice of brick:
We thank you for your generous contribution. Please support and follow this exciting project as it develops!