TWIN KLEIN
This engine, arriving in 1971, was the first large engine here. Although known as "Klein," it was built by National Transit of Oil City, PA in 1912, 10 years after John Klein's death. It is rated at 125 hp with twin 15 x 24 cylinders. It was used in the Eureka Pipe Line Co's Mill Creek Station near Charleston, WV. It pumped crude oil to the refinery in St. Mary's, WV.
TWIN BESSEMER
This old style, twin-cylinder, 35 hp Bessemer was shipped March 28, 1910 to the Mercer County (PA) court house where it drove a generator. Later in was moved to the McComb lease near Sandy Lake, PA where it powered a compressor. This is the smallest two-cylinder Bessemer made and features both ignitor and hot tube ignition. Bessemer was built in Grove City, PA.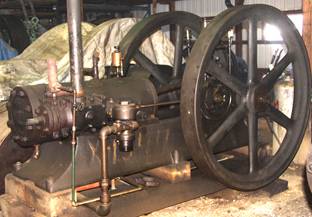 OLIN
This 25 hp engine was built by the Titusville Iron Works in Titusville, PA about 1910. It is very rugged for oil field use and features a hit and miss governor and hot tube. It pumped a rod line power north of Sigel, PA. South Penn chose Olins for the standard engine in their elaborate octagonal power houses.