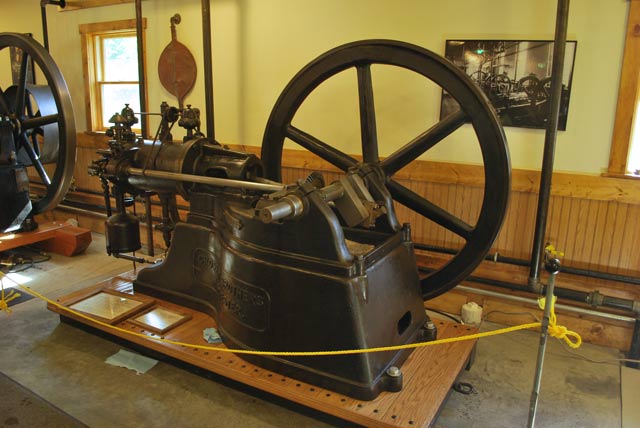 Crossley Brothers, 3 hp, "Piano Base" Serial Number 2210
This very early slide valve engine dates back to 1879 and is one of the earliest known four-stroke engines. It was built by Crossley Brothers in Manchester, England. Crossley Brothers were the only licensed company in the United Kingdom to build the Otto four-stroke cycle system. This engine design remained fundamentally the same for the remainder of the slide valve era. Several features seen here and only found only on the earliest Crossley engines are the twin belt drive lubricators and the straight spoke flywheel. This engine was imported by Henry Ford around 1928 for display in his Dearborn, Michigan, museum. It stayed there for 50 years or so until being sold in an inventory reduction sale. Although showing signs of wear, this engine is truly in remarkable original condition for its age.
It has the distinction of being the oldest operating four-stroke cycle engine in North America.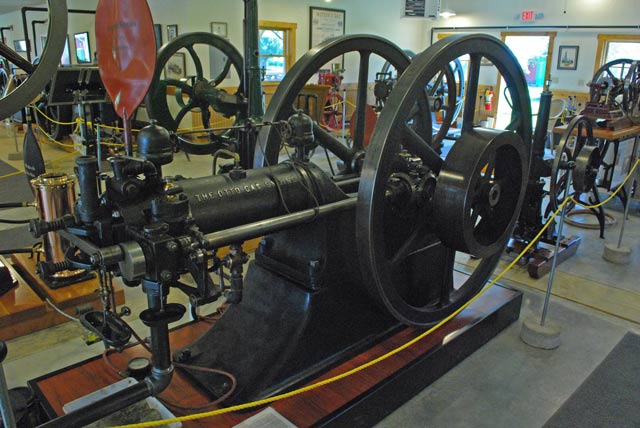 Schleicher, Schumm & Company, 8 hp, Serial Number 3211
This exhibit is the latest known slide valve Schleicher, Schumm & Company engine and is estimated to have been built in 1889. Features found on this engine and other second generation engines are the elimination of the crosshead and pendulum inertia governor. The engine was delivered to the University of Toronto in late 1889 for powering the university machine shop. It stayed in that capacity until eventually being relocated to the engineering lab where it proved a valuable test engine for students. Retired from the engineering school somewhere around 1910 when the illuminating gas needed to operate it was no longer available, it was loaned to the Ontario Science Museum. In recent years it was sold and is now privately owned.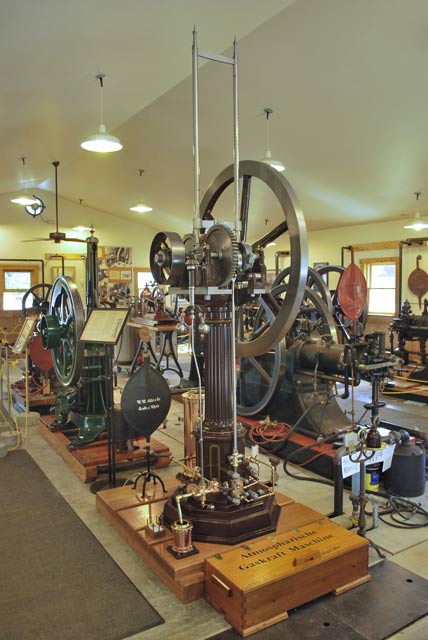 Otto & Langen Free-Piston Engine
Full-Scale Reproduction

Wayne Grenning brought his full-scale reproduction of the 1867 Otto & Langen free-piston engine to Coolspring for display in Preston Foster Hall. This exquisite machine is the result of many years of experience Wayne gained by building smaller-scale versions of these engines. The engine has a 5.9-inch bore and 34-inch stroke. Overall, it is about 10 feet tall and, with its 50-inch flywheel, weighs about 2650 pounds. Otto & Langen engines of this size were rated at approximately 1/2 horsepower.
Sombart

This very unusual machine was built in Hartford, Connecticut, in the 1882-1884 era. It is a direct copy of the English Bisschop engine. It is essentially a two-cycle, non-compressing engine with open flame ignition. The piston has a very long stroke running up the center crosshead with a side connecting rod returning to the crankshaft. It is indeed most interesting to watch it run! It is rated at "5 manpower" and has "5 MP" cast into the base. Originally, it was in the Henry Ford Museum in Dearborn, Michigan.
Introduction
1
2
3
4
Copyright © 2021 by Coolspring Power Museum