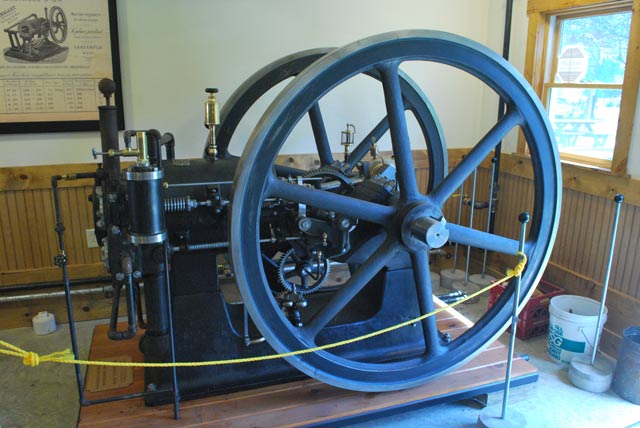 Vanduzen, 20 hp
Benjamin C. Vanduzen founded the The Vanduzen Gas and Gasoline Engine Company in the late 1880s. Located in Cincinnati, Ohio, Vanduzen produced engines in both horizontal and vertical configurations with outputs from 2 to 30 hp. The Vanduzen engines featured heavy-duty construction with details such as very large crankshaft bearings and timed hot tube ignition. The early years of this engine are not documented. In later years, it became part of the Smith Grist Mill exhibit in Rinard, Illinois, around 1982 and was on display there until about 2014. It came to Coolspring in 2015.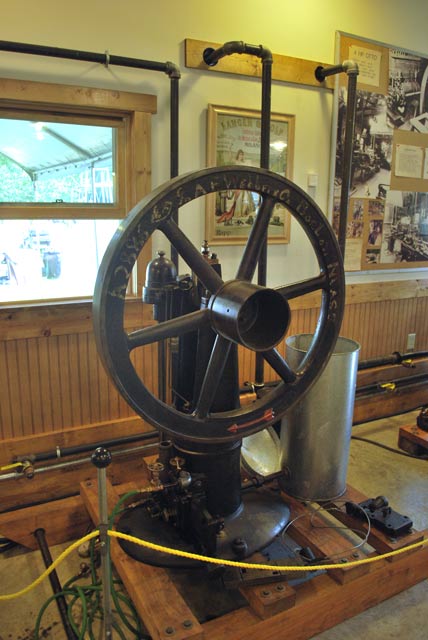 Schleicher, Schumm & Company
2˝ hp, Serial Number 2886

Schleicher, Schumm & Company, based in Philadelphia, Pennsylvania, was the only American firm licensed to build Otto's four-stroke cycle engine while his patent was in effect. This inverted engine, identified with serial number 2886, was built in 1887 and is in amazing original condition. Factory hand-painted, lead-base lettering still survives on the flywheel rim indicating the original owner or possibly a distributor. All of the engine functions (with the exception of exhaust) are carried out with the slide valve. Located near the head-end of the cylinder, a precisely lapped iron valve has an internal flame that communicates with the combustion chamber at the exact moment of ignition. Speed control is performed with a fairly large swinging inertia governor located on the end of the slide. All in all, about 3300 flame ignition slide valve engines were built by Schleicher Schumm. This example is one of only two known vertically-configured slide valve engines that survive from the Philadelphia company.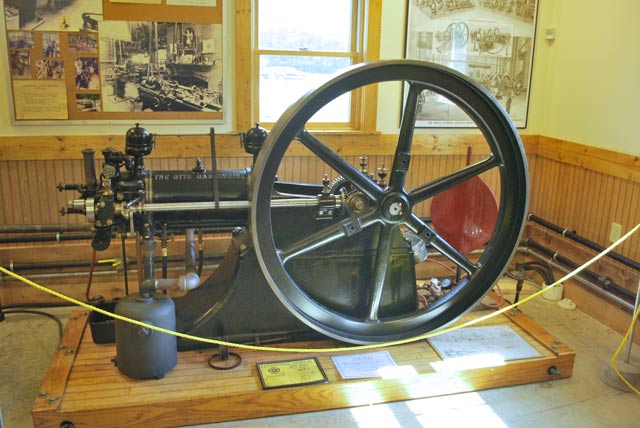 Schleicher, Schumm & Company, 4 hp, Serial Number 2907
Built in 1888, this slide valve, flame ignition engine was typical of the later (improved) style horizontal engines. This particular engine was specially built for dynamo service. As a cost reducing measure, the common crosshead and centrifugal governor were replaced with a trunk piston and inertia governor. This Style C engine was originally purchased by Frances Blake of Weston, Massachusetts, to power a shop making parts for Bell Telephone. The engine was extracted in remarkable condition from the original location in the mid-1960s. After a series of unfortunate events, the engine sat neglected in the elements for 35 years until finally being rescued. Here it can be seen after an involved restoration where it has been brought back to its original appearance.
Schleicher, Schumm & Company, 10 hp, Serial Number 1337
This 10 hp engine was a transitional design that departed from the typical German configuration seen on the museum's 2 hp Schleicher, Schumm & Company engine. Although still retaining the crosshead, the crankshaft was greatly stiffened by reducing the distance between bearings. This change was accomplished by incorporating "spur & bevel" gear system rather than the previous miter gear design. With this arrangement, a crankshaft bearing was located on either side of the crank throw. Another transitional feature was a two-nut system for retaining the slide valve cover. This feature reduced the frequent issues of uneven tightening found in the previous six-nut system. As originally built, this engine incorporated an integrated reciprocating, gear-driven water pump for hydraulic elevator service. Sometime around 1910, the pump and slide valve were removed and a simple gas "hot tube" ignition system was installed. After it was relocated into a factory in Hamilton, Ohio, it worked its remaining life there. Left abandoned there, it was rescued by the current owner in the 1970s. After an extensive three-year restoration effort between 2010-2012, the engine was returned to its original slide valve configuration. This example is the largest surviving single-cylinder slide valve engine from any manufacturer.
Introduction
1
2
3
4
Copyright © 2021 by Coolspring Power Museum