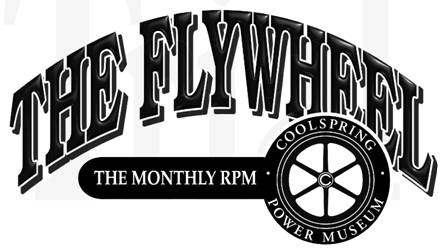 August 2013
June Show: Snowy and Smokey
By Paul Harvey
By the time you are reading this, the June Show is just a lot of great memories and photos. After some threatening skies on Thursday, the rest of the weekend turned out fantastic. Weather was sunny, warm, and dry! The museum did not have the expected rain and mud, so typical of Coolspring, and there were so many surprises to our visitors that you will soon see. The off-site parking areas filled up early but the shuttle bus saved these visitors long walks. We had good food, excellent exhibitors, great flea-market and a very happy attendance; all needed for a great show.
Probably the biggest surprise, even to me, was to see the 600 hp Snow engine run. It has been so long since we spent the winter removing the engine and placing it in safe storage. A dedicated crew spent many hours, no- years, doing the restoration. And now it finally paid off! About on Tuesday June 11, the Snow crew started buzzing around the engine. A group of about 45 gathered and knew what was about to happen. See Photo 1. With Chris at the controls and Ben and Mark closely watching, the big engine started to turn over on compressed air. About the second or third revolution, a distinctive "thump" was felt more than heard. The Snow had come to life! It came up to the governor and ran long enough for all to get good videos and see who would be first to have it on the internet. I'm sure that within fifteen minutes it could be seen starting around the world. With further tuning and adjusting, it ran on a schedule for all to see during the show. What a great surprise!
Next to the Snow, in Pat's Place, another surprise took place. Photo 2 shows the restored 50 hp White and Middleton engine that John Wilcox saved from the Bremen Station of the Buckeye Pipe Line Co. in 1958. It originally pumped crude oil along with the 12x24 model 4 Klein in the Power Technology Building. This massive engine has 7 1/2 foot flywheels. It has finally been restored to its original beauty and was ready to run after so many years. Now having all the pipe work done, it ran after each Snow run to keep the visitors on the hill happy. It was built in 1897 and ran long after the Klein was retired.
Photo 3 shows the 150 hp Hall Scott engine, built in Berkeley, CA coming to life. It is displayed in the Friend's Exhibition Hall and originally powered a self propelled rail car that carried passengers and baggage. The rail car could also pull two freight cars and had a reversing transmission so that it did not have to turn around at the end of the line. Built circa 1910, it had been displayed in the Ford Museum for many years before finally arriving here. Although still in original condition, it had not run for over 50 years. Another great surprise to our visitors.
Back in the early 1970s I had acquired a Sanderson Cyclone self propelled drilling machine, built in Orrville, Ohio, from an elderly gentleman near Gibsonia, PA. It is a number 14 Junior and was designed to drill "shot" holes for blasting rock and or coal. It was in very sad shape and really falling apart. Ownership was transferred to Herb and Martin and they labored over it for 15 years restoring it to new condition. It is powered by a vertical Cook engine, built in Delaware, Ohio, and now perhaps the only self propelled machine operating. They displayed it at the show, Photo 4, and it operated very well drilling a shallow hole for all to see. It was a joy for me to see an old memory alive and well.
Over the past few shows, the cooling water for the engines had been getting very hot. Water from the tanks on the hill circulates through all the engines in the buildings and returns to a sump tank where the Pump House pumps it back into the tanks for recirculation. The old cooler had not been in operation for many years, but thanks to Rob and Nate, it ran 15 hours a day to keep our engine cooling water at the correct temperature. Photo 5 shows the 4 hp Renfrew, built in Renfrew, Ontario, happily steaming away as it powers the fan on the Fairbanks Morse stationary radiator. Our cooling water did not overheat at the show!
These were some of the surprises that happened at the June Show. But our theme was oil engines and we did have a great and varied display exhibited. And smoke they did make! The following brief representation of them.
Photo 6 shows a very rare 18 hp Renfrew Hvid injection, twin-cylinder oil engine. This engine was built in Renfrew, Ontario and is the largest twin-cylinder of this type. With the Hvid injection system, balancing the power impulses of the two cylinders could be a problem. This engine ran so well, firing evenly on both cylinders, that this was not a concern.
There were many makers of the Hvid injection system both in the United States and in Canada and this principle was discussed in an earlier issue of The Flywheel. We were very fortunate to see many of these varied makers represented. All had certain similarities, as well as definite differences. Photo 7 shows a very nice 6 hp Brantford oil engine. These engines were built in Brantford, Ontario.
Photo 8 shows a 10 hp Northeastern diesel built in New Haven, Connecticut. This engine is a solid injection diesel that most probably originally had a marine use.
The most common Hvid injection engine is the "Thermoil" built by the Hercules engine company of Evansville, Indiana. Photo 9 shows a very nice 9 hp model that still retains much of its original paint. It is interesting to note that after the original model T Thermoil failed due to design problems, this model U was almost indestructible.
Bulldog gas engines were noted for their extremely heavy design and durability. But, as Photo 10 shows, their oil engines were even more rugged. Doug brought this engine a long way to display for our show here. Note the oil tank mounted on top of the water hopper.
Tom and Dieter proudly display a 2-51 Detroit diesel engine. The numerals mean two cylinders of 51 cubic inches each. Not to be confused with the more common 2-53 Detroit diesels, these engines did not have exhaust valves, but used ports for both intake and exhaust. This small engine was configured as a portable power unit. It is shown in Photo 11. They had an extensive display of various oil engines.
Photo 12 shows the museum's 20 hp OD Bessemer oil engine. An earlier issue of The Flywheel is devoted to the detailed description of the OD. This engine has been in our storage for many years and is now displayed on the 1952 Phelan trailer pulled by the 1968 V-200 International tractor. This engine was built about 1915 and pumped crude oil at The Buckeye Pipe Line's Mohican Station in mid-Ohio.
Built in 1897, this Crossley oil engine ran flawlessly throughout the show. It is seen in Photo 13. It was built in England and could burn heavier oils in locations where producer gas was not available.
Photo 14 shows a very unusual Pohl Oil Engine built by the George Pohl Manufacturing Company of Vernon, New York. This engine produced 3 hp and is quite unusual with the fuel tank as well as the valve operating mechanism on the "off" side of the engine. Although the engine looks "lopsided," it was probably done to make the Pohl engine stand out from the competition.
Although most early oil engines were known to be smoky, the Mietz & Weiss hot bulb, two-cycle oil burners were perhaps some of the worst. These engines were made in New York City. Photo 15 is a very early 15 hp Mietz and Weiss, hit and miss governed, doing its thing producing volumes of white smoke. Brian and Jonathan brought this engine from Canada to display at our show.
Photo 16 shows a very nice, two-cylinder vertical Hill diesel. These engines provided very durable power units.
Fairbanks Morse, made in Beloit, Wisconsin entered the oil engine business very early and produced a long line of very successful two-cycle semi-diesels. This engine is an early example of their style Y, type H horizontal engines. It produces 15 hp and runs extremely smoothly. Seen in Photo 17, it originally was used in the oilfield and we thank Tom for displaying it here.
Photo 18 shows a three-cylinder, Atlas-Imperial common rail diesel powering a two-cylinder vertical ammonia compressor. The engine is a delight to see operate with his distinctive exhaust note and multiple pushrods and mechanisms. It originally was used in a cold storage facility on Long Island, New York.
Probably one of the most interesting names for an oil engine is the Burnoil. Seen in Photo 19 this 2 1/2 hp engine uses the Hvid principle and hopper cooling. Note that the valve operating mechanism as well as the fuel tank is located on the "off" side of the engine. This maker was located in South Bend, Indiana.
Our last engine, shown in Photo 20 is a very early Cummins built in Columbus, Indiana. Long before the large truck diesels, Clessie Cummins started building hopper cooled, Hvid injection oil engines. Hence, a long career of diesel engine manufacturing was begun.
It is my hope that the reader will enjoy this tour of our June show, with both all the new surprises here at the museum as well as so many great and interesting displays provided by our volunteers and exhibitors.
The Museum will be open on:
August 17 & 18, 2013
September 21 & 22, 2013
Our final show and season closing will be:
October 17, 18, & 19, 2013
Please call 814-849-6883 for more information. Please attend one of these events to see our equipment in operation. See you then!