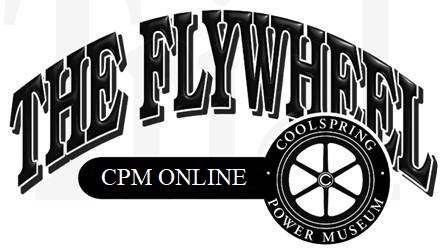 May-June 2018
An Oil Field Engine?
By Paul Harvey
Hmmm! Just what IS an oil field engine? Good question. I guess that the simplest answer is any engine used in the oil fields. Makes great sense! We all talk about oil field engines, and I think a certain picture comes to mind. What do you envision it to be? I think we see something a bit crude and rugged, and of course covered with oil. In this article, I would like to take you on a photo journey of my ideas.
Before we start our virtual trip, I would like to narrow our choice to gas engines. Now start thinking - how do we usually classify them? Seems that oil field is certainly one class. Then there are industrial engines, farm engines, electric generating engines, machine shop engines and many other types. How does the oil field engine differ?
As mentioned earlier, the oil field engine is usually somewhat crude and heavy and is usually manufactured for severe duty and limited maintenance. Made to quickly fill the need of the great oil boom, they were mostly of a very simple design. Note the Ball engine seen in Photo 1. This engine was produced by the Butler Engine and Foundry Company of Butler, Pennsylvania, and is of the two-stroke cycle design. Simplicity itself! It has a pleasant but heavy design which facilitates moving it from place to place. Often, the oil producer only had a hammer, chisel, and monkey wrench to do maintenance. Repair and adjustment had to be self explanatory. Photo 2 shows our volunteer, Jonah Close, working on another two-cycle oil field engine, an Etna, built in Butler, Pennsylvania. It now runs beautifully.
So, who came up with the first oil field gas engine? Records show that Joseph Reid, a Scottish immigrant, designed and patented an unusual gas engine. It was the very first aimed directly at the oil producer. That was back in 1894, and his invention changed the way oil was pumped. Being produced in Oil City, Pennsylvania, it was manufactured in the heart of the oil patch! It was extremely successful, and the firm survived until about 1948. A fine example is seen in Photo 3.
The gas engine fever quickly spread and other makers were soon selling their versions. Of course, each one was deemed the finest built and competition was severe. Natural selection weeded out the poorer ones, while a few other ones prospered into industrial giants. Design varied but all kept the qualities of being simple and rugged - ready for a hard life. When running day and night with little attention, they had to be durable.
With design proliferation, some builders turned to the four-stroke cycle principle. It certainly had its advantages but the four-stroke cycle never eclipsed the two-stroke cycle's utter simplicity. Pattin Brothers of Marietta, Ohio, made several successful models of four-stroke cycle engines. Note the 25 hp beauty depicted by Photo 4. It was of pleasant lines, hit and miss governed, and featured both hot tube and high-tension ignition. Being simple and rugged, it was quite successful. Another fine example is this Swan engine, built by John Swan of Lima, Ohio. It featured side shaft, vertical throttling governor, and a cross head. Although very pleasing in appearance, it was not so successful. Perhaps it was just too complicated for the oil producer? Coolspring's Swan engine is seen in Photo 5.
Still others decided to make only a gas engine cylinder that could be adapted to a steam engine frame. When the producer wished to retire his steam engine and avoid the problems with an ailing boiler, he could choose this route. Dr. Edward Fithian of Portersville, Pennsylvania, pioneered this idea in 1898, and another world of engines evolved. Literally hundreds of combinations were possible utilizing various steam engine frames and gas engine cylinders. This type was affectionately called the "half breed" engine. Photo 6 shows a Davis cylinder attached to an Oil City steam engine frame. It was very successful. The "half breed" concept was so popular that some makers placed their compressor cylinders on steam engine frames, as seen in Photo 7.
A unique variant of these engines were the combination engines, the ones that could operate on either gas or steam. Gas could be used for everyday pumping while steam, more powerful and easily reversible, could be used for servicing the well. Most of these neat machines were built in the Washington, Pennsylvania, area. They did not stray far from home in their use, answering a particular need there. Photo 8 shows the museum's Either engine, built by B.D. Northrup of Washington, Pennsylvania. It features his convertible cylinder mounted on a sturdy Ajax steam engine frame. Oil patch ingenuity!
So I think we are getting an idea what the oil field engines are: a really diverse breed of their own. But wait, there's more! Making a good thing even better, some builders combined their engine with what it needed to operate, all in one piece. Want to pump a group of wells by the "rod line" method and don't want to buy and install a separate engine and eccentric pumping power? Pattin Brothers had the answer with this neat combination engine and pumping power all in one piece. See Photo 9. Several other makers produced similar combination units that were easy to install.
What about the lease owner who had a group of steam engines already on the wells, but was plagued with a failing boiler? The Blaisdell Machinery Company of Bradford, Pennsylvania, had the answer with this nifty 65 hp unit that combined a large gas engine and air compressor into one unit. The piston assembly in the single cylinder was double-acting, yielding a gas engine on the end of the cylinder facing the cylinder head and an air compressor on the end of the cylinder facing the flywheels. Unique and highly successful, the Blaisdell produced compressed air that could easily operate the steam engines. Seen in Photo 10 is the museum's Blaisdell sporting huge 7-foot diameter flywheels! It operates in our Windy City display and powers a steam engine as it did originally. Amazingly, the Blaisdell firm evolved into the firm that makes Zippo lighters!
A few makers opted to make a machine to fit various needs. Jacobson of Warren, Pennsylvania, was one of those. Although their engines were mainly for the oil field, they could also serve farm uses as well as industrial uses. This cute little 4 hp model, noted in Photo 11, was happily at home most anywhere. It was water hopper cooled, affording it portability, and could use either gasoline or natural gas as fuel. They had a side shaft, and hit and miss governing, making them a very pleasing design. This one resides at the museum now.
OK, so that's the oil field engine story in a nutshell. We now have a great mental picture of them. So how do they differ from industrial engines? Those engines are the ones used in factories, machine shops, water pumping applications, print shops, and the like. The industrial engine was usually well finished and had an exceptional appearance. Commercial concerns often put their expensive engine where the customers could watch it and "ahhh" about the opulence of the owner. It was just good advertising, and the makers of the engines knew this. Brass was polished, and surfaces were machined for the ambience the well finished engine created. Note Photo 12 which shows the museum's gorgeous New Era engine. Built in Dayton, Ohio, this beauty spent its life pumping water in a small municipal water works.
Occasionally, a mill-quality engine would be retired and get its second life in the oil field. Such is true of the museum's fine 16 hp Backus engine. See Photo 13. Beginning its life around the turn of the last century in a small grain mill in Sarver, Pennsylvania, it was sadly retired by the installation of an electric motor. Ahh, progress! But it was saved by an oil producer and lived a very productive second life.
Photo 14 shows a fine example of a mill or industrial engine with this huge 50 hp White and Middleton, dwarfing its proud owner, Greg Johnson. White and Middleton built exceptionally well finished engines for the discriminating buyer. So what did it do? It pumped oil!
So now we know what an oil field engine is: it's rugged, simple, greasy and dependable. We all love them! But then, we all love the shiny sophisticated industrial engines as well. They all have their place and use, and truly all engines are super. Come see these oil field engines and other engines at the museum. You will enjoy!