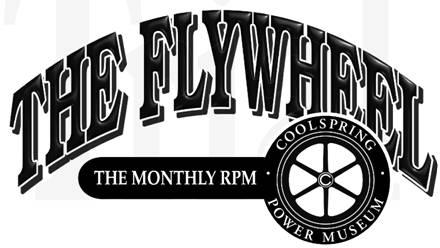 January 2016
The DuBois Story - Part 1
By Paul Harvey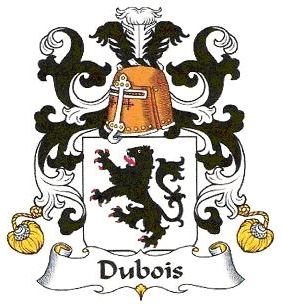 The DuBois family Coat of Arms
Over two hundred years ago, the north-central part of Pennsylvania was a vast primal forest occupied by Native Americans and was also home to deer, bears, wolves, mountain lions, and other wild creatures. About 1812, a hardy Revolutionary War veteran, George Shaffer, forged west into the wilderness and chose the present DuBois area for his homesite. His nearest neighbors were many miles away. Interestingly, his son Fred deeded the southern part of the Shaffer tract to a Williamsport lumberman, John DuBois, in 1855. The northern tract was transferred to DuBois in 1884. The DuBois Story was beginning!
The next settler to move into the area was John Rumbarger, who purchased a tract of land there in 1865. Aware of DuBois' interests, he was still determined to create a community and proceeded to sell lots and lay out a town. He was successful and, in 1872, the town of Rumbarger was formed with its post office being established in 1874. As a result of the efforts to open the first post office in the entire area, Rumbarger was considered the town founder. However, the DuBois settlement, with its new sawmill, was growing. The two towns were separated by Sandy Lick Creek. The western side of the creek was Rumbarger, occupied mainly by coal miners, and the eastern side was Dubois, with all the lumbermen. In 1876 the two towns were united into DuBois, and the name of the post office was officially changed. Rumbarger is remembered in the cemetery that bears his name. It is located on Main Street near the Dubois Regional Medical Center. See Photo 1.
Scrolling back a few centuries, we find Louis duBois, a French Huguenot, wanting to escape the religious persecution in his homeland. Born in France in 1626, he and his family immigrated to the New World in 1660. DuBois was one of the oldest families of nobility in the French Empire; the name literally means "the woods." True to their name, they first settled along the Hudson River in New York, but soon moved inland to the great virgin forests of New York and Pennsylvania.
Moving ahead five generations, we come to John DuBois Jr. Born in Oswego, New York, on March 3, 1809, he entered the lumber business at age 15, soon settling in the Williamsport area. His portrait is seen in Photo 2. There he became wealthy, building a great mill and founding Dubois Town. He secured many patents that made his mills, along with the transportation of logs and lumber, much more efficient. He established the DuBois Iron Works there and moved it to the present DuBois in 1875. However, he foresaw the end of his timber resources in the Williamsport area and, looking to his future, actually visited George Shaffer in his log cabin in 1842. A new era of lumbering was about to begin!
Settling in the new rural hamlet bearing his name, John DuBois Jr. started a new and more ambitious career at age 62. He was already wealthy, but he could not rest; there was a vast resource of lumber to be sawed! In 1871, he established the "little mill" on Sandy Lick Creek. Not satisfied with its production, he built the "big mill" in 1874 and a hemlock mill in 1884. At that time, the DuBois-VanTassel tannery was added to use all the hemlock bark. He was now able to produce 20 million board feet of lumber annually, which made his the biggest lumber operation in the state. He built a store and a hotel as shown in Photo 3. The store traded with "DuBois Scrip" notes of five cents to five dollars. His new town certainly prospered and he was the driving force behind it.
John DuBois Jr. passed away on May 5, 1886, and was buried in a brick lined grave on top of Monument Hill. He wished to face his mansion and the new town and industry he created. This was his love and life! His monument is shown in Photo 4. The legacy would continue.
Because he was a bachelor, the family eagerly awaited the reading of his will which was drafted by the respected Punxsutawney attorney, Hon. George A. Jenks. He left everything to his nephew, John E. DuBois Sr. The will was contested but was valid, so John E. DuBois Sr. now became a millionaire lumber baron. Interestingly, Jenks' nephew was William H. Jenks of Brookville, who designed and built the Jenks Gas Engine.
John Ezekiel Dubois Sr. was born in Tioga County, New York, on May 15, 1861. His father was Ezekiel DuBois, a brother of John DuBois Jr., so he grew up in the lumber business. His portrait is seen in Photo 5. John E. Sr. had apprenticed with his uncle since he was a teen. Being very capable, he gradually moved "up the ladder" into more responsible positions in the lumber trade and knew the entire company business very well. He was the logical successor to the DuBois empire. A very benevolent man, John E. donated much to the community including establishing a hospital, improving churches, and paving streets. On September 15, 1897, he married Miss Willie Tipton Gambill of Roanoke, Virginia. They immediately left on a honeymoon to Japan. Their first son, John Ezekiel DuBois Jr., was born in DuBois on August 13, 1898.
Willie, a true southern lady, soon busied herself in her new home in DuBois. Not satisfied with the old Victorian style mansion, she created an English Tudor styled marvel which was noted for its beautiful gardens. Standing at the foot of Monument Hill, it clearly overlooked the Iron Works and the sawmills. It is shown in Photo 6. Sadly, it was razed in the late 1970s.
Interestingly, Willie was not satisfied with her carriage driver because he could not back up the team and carriage. Her husband came to the rescue by offering his stable master, Edwin Mix, to be her driver. She demanded proof, and Mix, an expert horseman, backed the carriage easily down the serpentine drive of the mansion! He became Willie's exclusive driver! Edwin's son, Thomas Hezekiah Mix, was born on Mix Run, in the remote Driftwood, Pennsylvania, area. Like his father who instructed him, he was an expert horseman. Tom went on to Hollywood to be the first cowboy star of the silent motion pictures. Tom and his parents are shown in Photo 7.
John E. Sr. continued to expand the town and his huge lumbering operation. In 1910, the Lumber Man's Journal stated that the DuBois operation was the biggest in the world. He was now the Lumber King! Turning to his other ventures, he completely updated the DuBois Iron Works and, on August 11, 1897, put the new plant into operation. Employing 300 men, it was the most modern machine shop in the country. The huge building of brick and stone was 500 feet long and 80 feet wide. Photo 8 shows it in 1916. It produced a variety of products including gas engines, steam pumps, sawmill equipment and oil field supplies. After a very successful life, John E. DuBois Sr. passed away on November 11, 1934. He died in the Maple Avenue Hospital, the one that he had created many years ago. He was buried at Morningside Cemetery in his city.
John Ezekiel DuBois Jr. followed in his father's footsteps very well. His picture is shown in Photo 9. As the great forests had been exhausted, the "big mill" closed and the lumber business came to an end. In 1940, he is noted to be the vice president of a gas meter factory. The Iron Works had been transformed to manufacture Rockwell gas meters. The magnificent buildings of the Iron Works still exist today as the Sensus meter plant. Photo 10 and Photo 11 were recently taken by the author. Note the similarity to Photo 8! John E. Jr. passed away on February 25, 1984, and is buried with the rest of the family at Morningside Cemetery.
The museum is very fortunate to display an 18 horsepower DuBois engine. Located in the Earle T. Harvey Memorial Exposition Hall, it is shown in Photo 12. It runs so very well. The details of the nameplate are depicted in Photo 13. Local history suggests that this engine was first installed in the Burkett Grist Mill, located in nearby Oliveburg, Pennsylvania. I purchased the engine at an auction near Dayton, Pennsylvania, in the early 1970s. It was mounted on a concrete foundation in a large grain storage building, where a threshing machine could be belted to it. The engine has a majestic vertical governor that holds the exhaust valve open between power impulses. See Photo 14. It also features a power operated intake valve, a ported exhaust, and a make-and-break ignitor. It is well-built, and well-finished, with very pleasing proportions. A joy to witness in operation!
Fortunately, I have a small DuBois Iron Works catalog, Bulletin "M" of 1907. It terms the museum engine to be of the "General Service Type." See Photo 15. As noted, they were built in sizes from 5 horsepower to 50 horsepower and used for many diverse purposes. The bulletin also shows a portable model, complete with a water cooling tank, mounted on a four-wheeled, horse-drawn cart. The firm also produced many other designs.
Apparently rare today, the only other DuBois engine that I have seen is a 5 horsepower model displayed here many years ago by the late Dale Nickerson. It is seen in Photo 16, with a typical "Nickerson" sign. I would appreciate hearing from any other DuBois engine owners and seeing photos of their prizes.
I would like to acknowledge and thank the following sources from whom I have used information:
DuBois Area Historical Society
Google Books
Newspapers.com
Ancestry.com
"Around DuBois" book by the DuBois Area Historical Society
Personal Photos and Literature
This article was made possible from the information gleaned from these sources.
Next month, the DuBois Story will continue with detailed information of the various engine models, the designers and patents, and the installations. The mysterious connection with Lazier will be revealed. It promises to be interesting and informative.