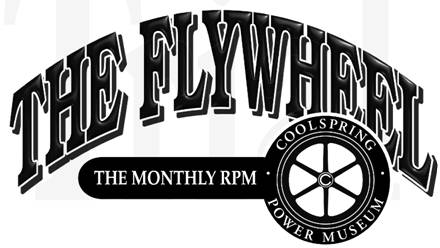 October 2015
A Bradford Visit
By Paul Harvey
Our story begins in May of this year, with an email from Zippo Manufacturing Company in Bradford, Pennsylvania. The firm had an Ingersoll-Rand air compressor that was recently removed from service and they wished to donate it to the museum. It is a vintage 1956 heavy, cast iron, horizontal unit complete with motor and all controls and in excellent condition. Gladly accepting the offer, we set a date in August to retrieve the unit. Their maintenance crew already had removed the compressor from the factory and placed it on three pallets, which they loaded onto our trailer with their forklift. Wow! Easy job!
As we were preparing to depart, the maintenance supervisor suggested that we visit their museum, which features the history of both Zippo lighters and Case knives. We accepted the interesting-sounding invitation. Driving around the corner from the factory, we found the entrance into the Zippo/Case Museum as shown in Photo 1. One of the big Zippos, located on the entrance poles, is detailed in Photo 2. The museum admission is free and a visit is very worthwhile.
We have long known that Zippo evolved from the Blaisdell family, who, at one time, made large gas engines, compressors, and other oil field equipment. The 65 horsepower engine-compressor located in Coolspring's Windy City building is a Blaisdell, manufactured in 1917. In 1932, George Blaisdell, the son of the company's founder, founded his oil and manufacturing business in the midst of the Great Depression. From the article in Photo 3 we learn that he decided to do something about it. Little did he know that he was starting a multi-million dollar business - in the worst times of the Depression.
George, his portrait shown in Photo 4, had seen a French cigarette lighter, the only one on the market, and it operated poorly. He decided to make a better one. There was no competition. He rented a small room over a tire shop in Bradford for $10.00 a month and went to work. His invention was successful and is very similar to the Zippo we know today. Everyone loved it and the sales grew to the huge production of today.
Photo 5 is an interior view of the Zippo/Case Museum with an attractive art deco neon display reminiscent of the 1950s. Ever wonder what happens to your lighter when you send it back for free repair? Through one-way glass, Photo 6 is a view of the Zippo Clinic, where all returned lighters are repaired and mailed back to their owners. Seen in Photo 7 is a 1940s ad that is so typical of the postwar era. Notice the $2.50 price for a new lighter! I wonder how such an ad would be received today! Finally, Photo 8 illustrates one of the many Case Knife displays.
Leaving Bradford, we soon found the Penn Brad Oil Museum along route 219, south of town. It appeared enticing, note Photo 9, so we stopped for a visit. Wow! If one likes oil field artifacts, historical displays, and gas engines, this is the place to visit. All the structures appear to have just come out of the oil field, and the area is dominated by the standard rig derrick, as seen in the background. They have indeed created an excellent ambience that can be felt through the entire visit.
We were greeted by a docent who gave us an extensively detailed and guided tour. We started in the oil field display building, illustrated in Photo 10. After chatting with us a while, he proceeded to start their A.C. Thomas "half breed" engine, Photo 11, and its exhaust note provided nice "stack music" for the rest of the tour. A detail of the name of this engine cast into the cylinder - fascinating to me - is seen in Photo 12. It is interesting how irregular these letters appear. The other side of the oil field display building is shown in Photo 13. This features a very complete Farrar & Trefts steam engine powering a walking beam oil pumping rig. There are countless interesting artifacts displayed on the walls and floor of this building.
Among the outside displays is this unique 12 horsepower "half breed" engine. See Photo 14. The frame is a beautiful Dempster and Comstock semi-box frame, built in Buffalo, New York, and the power cylinder is a Bovaird & Company, built in Bradford, Pennsylvania. Revealing my age, I recall seeing this engine on its original location. I feel relieved to learn that it has been saved, and now on display for everyone to appreciate.
Returning to the buildings, we learned about this crude oil test lab used to determine the exact composition of oil samples. The vertical cylinder to the right, viewed in Photo 15, is a miniature cracking still which separates the crude oil into its components for further analysis. Another display case featured this vintage advertisement for a "turnkey" power house built by Bovaird & Seyfang company. These structures contain a two-cycle Bovaird & Seyfang engine direct coupled, through a clutch, to their own pumping power. This unit was able to pump many wells by means of the rod line system. The ad denotes, as seen in Photo 16, that this unit was used by Kendall. In years past, these efficient units dotted all the hills around Bradford.
Their excellent library and reading room is shown in Photo 17. The shelves are loaded with vintage books and periodicals about the great Bradford Oil Field. An antique transit telescope stands inside one of the windows and is aimed at a remaining pumping power. It provides an inspiring place to do research. As the day came to a close, we finally visited the derrick viewed in Photo 18. The rig is powered by a four-cylinder Buffalo drilling engine. We thanked the docent and chatted about the great tour all the way home. Photo 19 shows the Dodge, trailer, and compressor safely home. It was a wonderful day!
Coolspring Power Museum's open season is rapidly coming to a close for another year. Our big Fall Exposition & Swap Meet will be held on October 15, 16, & 17, 2015. Please attend and see all the new exhibits, search for a special flea market treasure, enjoy engines brought by the exhibitors, and eat some good food. Special tours of the museum are available during the closed season by making advanced arrangements. For information, please call 814-849-6883 or see our website at www.coolspringpowermuseum.org.