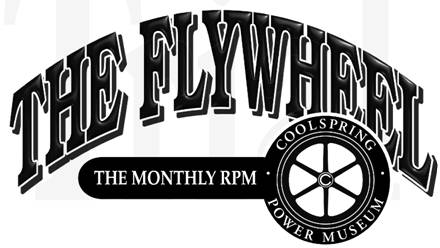 September 2015
History Day
By Paul Harvey
History Day, along with the Car, Truck and Tractor Show, has now become a museum tradition. This event is held on the Saturday of the July open weekend, and caters to a much smaller audience than the big June show. We usually anticipate 200 to 250 guests, and are able to give them an intimate tour of the museum. During the event two tour leaders give narrated walking tours, and guests may join at any time. Or, if preferred, guests may also wander through the entire museum on their own. History Day is held on a Saturday in July. It is our desire on this day to have the museum available to the local folks who are unable to attend the big Summer Expo show in June. This arrangment is proving to be very successful and pleasant to all.
With the smaller number of visitors present as compared to the Summer Expo, our engineers are happy to take time to visit and chat about the equipment they are operating. Detailed explanations are given on a personal basis, and all questions are answered. We feature many of the museum engines in operation, as well as having most all the trucks lined up for our guests to enjoy. A volunteer who is present with the trucks is happy to just chat "truck talk," or explain a certain vehicle. This is the only time the complete collection is seen on the grounds.
The day started at the Welcome Tent, and Photo 1 shows Ruth Northey greeting two visitors. They are oriented to the museum here, and directed to the gift shop to pay admission. From there they may join a guided tour or wander the grounds themselves. Maps are available.
A great lunch was provided by K & S Concessions, and the new food pavilion seemed to be a popular place. Photo 2 shows the pavilion in full use. During the day, it proved to be a shady spot at which to enjoy a cold drink, take a rest, and chat with friends.
Photo 3 shows a rare, inverted Crossley engine, manufactured in Manchester, England, in the early 1890s, brought for the display. This engine has a rotary valve that performs the intake and exhaust functions, instead of the usual poppet valves. Its owner was impressed with the museum and decided to put it here on long term loan. It now can be seen in the Preston Foster Hall.
A very unique American LaFrance speedster, made from a fire truck, is shown in Photo 4. All the details can be seen in Photo 5. It has the huge "T" head, six-cylinder American LaFrance engine, and is chain driven. It must be a joy to run on the open road!
A truck in progress is seen in Photo 6. This was a KB series International that now has a Cummins diesel! It will certainly make a great "hauler" when finished. It is so interesting to see what other people are accomplishing with their projects! Hope to see it back next year. Photo 7 shows a beautiful GMC "cracker box" tractor. These trucks got their nickname from the square appearance, being one of the first "cab over" models produced. Of course, it has a two-cycle Detroit Diesel engine coupled to a 12-speed Spicer transmission.
Photo 8 shows two nice farm tractors arriving for the day. They were unloaded and driven about, to the visitors' delight. The orange one is an Allis Chalmers, and the red one is a Farmall model C. The Allis Chalmers was hitched to our big roller and gave a nice demonstration of reducing the ruts in the display fields. We were delighted to see these three "super garden tractors" viewed in Photo 9. All three had V-8 engines and could move very quickly.
As the day faded away, everyone seemed satisfied that they had a great time. History Day, along with the Car, Truck and Tractor Show, will occur again next July. Mark July 16, 2016, on your calendar now, and bring an engine or vehicle for all to enjoy.