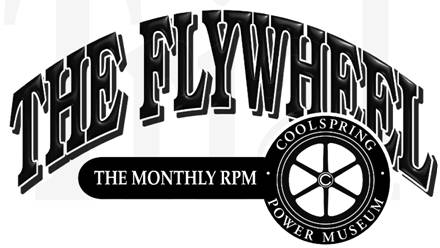 April 2014
Clark's Story
By Paul Harvey
This is the story of a little engine named Clark - his history and his rebirth. At least we are told that his name is Clark as no one has ever seen one like him nor has any records of his birth. Clark was donated to the museum many years ago by the late Ralph (Sonny) Wilson of Allegany, New York. Sonny told us the engine was built by Clark Brothers Company of nearby Belmont, New York, about 1900. Originally purchased by neighbor Vernon Fields, the engine was used to power a buzz saw to cut firewood for a maple syrup sugar shack. Later abandoned in a ditch, Sonny found the engine laying west of Five Mile Road near Allegany. Clark had a magneto and gasoline mixer attached, apparently not original, and, using these, Sonny got him operational for local displays.
In 1976, for the Olean, New York Bicentennial, Dresser-Rand, Clark Brothers successor, adopted him. He received a quick paint job of blue and silver, the new firm's colors, and had attached a modern Clark name plate. After the event, they returned Clark to his owner and, several years later, Sonny donated the engine to Coolspring Power Museum. Clark sat proudly on display in the museum's Expo Building for several years but, with so many other projects, the museum tucked him away in safe storage, and he lived, forgotten and in seclusion, for many years. Then, in November 2013, Mr. Wilson's son, Keith, inquired about Clark and his life at the museum.
Spurred on by the inquiry, we looked at Clark and, finding him amazingly interesting, we got him out of storage and into our heated shop to do a winter rebirth. We were pleased to find that Clark had very pleasant lines and a most unusual mechanism. The castings were well done but other parts were very crudely made. There was no name anywhere on the engine, other than the 1976 name plate, nor any casting numbers. Being unlike anything else Clark Brothers ever built made us wonder if Clark could have been a prototype and the only one in existence? We will probably never know.
Going back in history over 100 years, we find two brothers from Belmont, New York, William Pendleton Clark and Charles Ethan Clark, becoming interested in the manufacturing business. At that time, the Belmont area had large farms and huge stands of timber so they concentrated on products needed to manage these resources. In 1878, the brothers patented a hay rake; see Photo 1. Soon they found a great demand for steam engines and sawmill equipment and rapidly rose to be one of the major makers of these items in the entire country. Photo 2 depicts their plant in 1908, the largest in Allegany County, New York. They built huge band saws and Corliss style steam engines in the 2,000 hp range.
Soon the vast stands of timber were exhausted and the sawmill trade declined. But a new industry was now in its infancy and rapidly increasing; oil and gas production and transportation. So a new chapter opened for the Clark Brothers. William Clark, always the promoter, looked into the future of the firm while his brother Charles, now living in Wellsville, New York, teamed with William Henry Norton in 1907 to found the firm of Clark and Norton. Charles did not leave the Clark Brothers Company, but remained as vice president while building a competing firm in Wellsville.
Mr. Norton was educated at Alfred University, Alfred, New York, located in Allegany County, and already was engaged in the Norton Oil Company and the McEwin-Norton Oil Company of Wellsville, New York. He invented the Norton pumping power and was an accomplished surveyor. In addition to Clark Brothers, the new firm of Clark and Norton also prospered and built huge oil and gas pumping equipment. Only about 20 miles apart, they built a parallel line of equipment and their plant still stands on West Dyke and South Main Streets in Wellsville. The demand must have been great to support both firms in harmony with each other!
The destiny of Clark Brothers Company was changed on the night of May 11, 1912 when a huge fire consumed the plant, a nearby wagon works, and several houses. A special train brought a Genesee steam pumper from Wellsville which saved the entire village of Belmont from being consumed by the conflagration. Company president William Clark was in New York City on business at the time, but brother Charles, vice president, issued a statement that Clark Brothers would be continued. He volunteered his other interest, Clark and Norton, to supply orders until the new plant could be erected. With the new oil and gas industry centered around Olean, New York, Clark Brothers decided to rebuild there. So Belmont again became a quiet agricultural village and the huge new factory was erected in Olean. This plant still builds compressors for the Dresser-Rand Corporation. At this time, the brothers proceeded on their separate ventures - William in Olean and Charles in Wellsville.
Moving ahead 100 years, we now return to Clark's story. Photo 3 shows Clark as we found him on November 11, 2013, safely tucked away in a storage trailer at the museum. It had been years since he saw the light of day! Five days later, and with the nice weather still holding, Clark was sitting in the shop awaiting the time he would come to life again. He would have a warm winter home and life was looking good. See Photo 4. We began to assess the project and found the engine to be in remarkably good condition. With a little oil and effort, all parts moved! It was decided that we would decipher the complicated intake chest and governor, then proceed with a mechanical restoration keeping the "as received ambience" that told so much of his history. Complete disassembly and repair would now be required.
The piston, 5½ inches in diameter, slid out easily revealing three large rings as shown in Photo 5. Looking closely at the photo, note the odd brass plugs inserted into the piston at random intervals and machined smooth to the piston surface. They do not seem to fill any casting defects and have no apparent use. Another of Clark's mysteries! Photo 6 shows the intake chest with the rotary throttle. The small disc to the right containing slots is slightly rotated by the governor to either align or close the holes in the chest to regulate the passage of air and gas. This required some lapping with Clover compound to secure a good seal again. The small plate holds all together.
Clark has a ported cylinder with a huge 2½ inch diameter exhaust pipe that was well shown in photo three. Quite unusual for an engine with a 5½ inch piston bore and a 6 inch stroke. The gases from the exhaust valve are ported through the head then on through the cylinder to the big exhaust pipe. As shown in Photo 7, the exhaust is the smaller black passage to the right in the head. The five other larger openings are for the cooling water. The exhaust valve has a flat seat and is quite small and fragile. It is operated by timing gears, push rod, and rocker arm, all lightly and crudely constructed.
Most interesting is Clark's unusual governor illustrated in Photo 8. Within one flywheel are two expanding weights, similar to other engines, that detect the speed of the engine and spread apart as the speed increases. The linkage used in the flyweight arms is unfinished flat steel. But there all similarity to other engines ceases. The arms are connected to two cast iron shoes that apply pressure to a large cast iron collar. These parts are very nicely done. As the engine speed increases, the governor causes the shoes to press tighter on the rim of the collar, rotating it a bit. The collar has a lever attached and, by means of a linkage, moves the rotary throttle plate to admit less gas and air. As the speed decreases, a spring returns the collar, and hence the rotary throttle, to admit more gas and air. A very unusual and ingenious system!
The bearings were all disassembled, cleaned and measured for appropriate fit. The rod brass is very nicely made but showed a bit of wear. Photo 9 shows one half of the bearing mounted in the shaper to remove 0.004 of an inch of brass. A perfect fit was obtained with this done to each half. The piston pin and its brass bushing were also worn as noted in Photo 10. A friend made the new parts which worked well.
Parts were finished and assembly was proceeding very well. Photo 11 shows the intake valve chest with the rotary throttle. A bit complicated but it appears to work well. Similar to the exhaust, the intake valve has a flat seat and is small and fragile with a very light return spring. Photo 12 shows the engine nearly completed. It has been returned to hot tube ignition and gas (instead of gasoline) as Mr. Wilson suggested. Mounted on a wood base, it would soon be ready for that first try.
On Saturday, March 1, 2014, Clark was as anxious to run as we were to "give a try." Oilers were filled and the hot tube burner lit. Soon the tube was glowing bright orange and it was time to turn on some gas and spin the wheels. Stewart and Doug begin to crank as seen in Photo 13. Enthusiasm ran high as the engine quickly barked into life after so many years of sleeping! Photo 14 shows a smiling Doug as he adjusts the gas throttle of the happily running engine. That evening, I forwarded the photo to Keith Wilson and he replied, "So great, I am sure if my Dad could see from Heaven, he would be smiling." What a wonderful conclusion to a very long story!
The Clark engine will now be on display at Coolspring Power Museum for all to see and appreciate. The little engine named Clark will be happy to greet his visitors. If you are unable to attend, please go to YouTube and enter "Early Clark Engine" to spend two minutes watching this event. You will enjoy! The 2014 Museum schedule can be found on our website, coolspringpowermuseum.org, or by calling 814-849-6883. See you then!