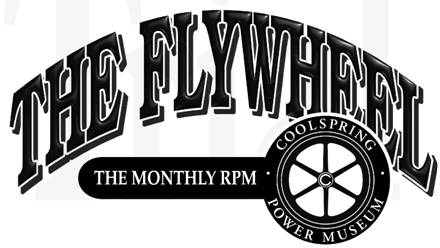 January 2014
Reid's Reid
By Paul Harvey
A new year has just started and finally the days will lengthen as the sun again treks up into the zenith of the sky. The museum is looking forward to an exciting year and will feature "Foreign Engines" as the June Expo theme. Our Canadian friends are readying their best and I am sure several other countries will be represented. Many American collectors specialize in foreign built engines and some good ones should be here.
Many of our readers know Reid Wellman and his Dad, Ellis, who are usually found in the Lillibridge Station operating the big Miller engines. Last October, they hosted an Engine Run on their place near Hiram, Ohio, and so I was off to attend. It was a small but personal show on a beautiful, warm, sunny autumn day that so reminded me of the early Coolspring shows. Engines were running which set the atmosphere for a friendly crowd to chat, enjoy the food, and just have a wonderful time. And enjoy we did!! I wish to share some of those moments with you now.
As I pulled into the driveway, I was greeted by a Rumely Oil Pull tractor, see Photo 1, welcoming the guests. Ellis and Reid have long been known as Oil Pull enthusiasts so this seemed a great beginning of a great day. Parking on the lawn to the right, I walked up by the Model G 20-40 Oil Pull tractor and snapped Photo 2. It is beautifully restored by the Wellmans and shows evidence that it is frequently operated.
Next, I strolled by the Aultman-Taylor tractor, Photo 3, built in Mansfield, Ohio. Although this big machine would be considered a "prairie tractor" and able to pull many plows in long straight distances, central Ohio is the beginning of the Great Plains and western farming practices. We will see it in operation a bit later.
Walking into their building, I first noticed an engine long known to me, a 13 hp side shaft, hit and miss, Jacobson made in Warren, PA. Note Photo 4. This engine operated a small oil pumping power just north of Titusville, PA, and has been in the Wellman collection many years.
Photo 5 is a 25 hp four-cycle, side shaft Superior made in Springfield, Ohio. A hit and miss governed engine that commonly found use in the oil fields, this one pumped a single well for Washington Oil Company near Taylorstown, PA. I actually saw this engine on location in 1969!
Reid's Reid is shown in Photo 6. It is a very complete and very old 15 hp model bearing the serial number of 596. This would be circa 1896. Differences from later engines include the wheels without counterbalances or split hubs, the very low designed frame, the iron name plate on the side, and the original oilers. There are not many this old and this nice!
Catching my eye next, see Photo 7, was a 1 1/2 hp Sattley engine. It is a fine example of a farm engine mounted on portable trucks so that it could be easily pulled to do many chores around the farm.
My biggest thrill was to see Reid start the 20 hp Bessemer model OD oil engine as he smiles beside it in Photo 8. There is one at Coolspring but not in operation so this was a learning experience for me. Note "The Flywheel", May 2013, THE MYSTERIOUS OD. This engine injects oil such as kerosene against a heated surface to cause ignition and hence operation. It is two-cycle in operation and its design differs from any other Bessemer engines.
Photo 9 shows the plug removed from the OD head and its torch blasting a flame against a sealed pot containing 7 lbs of mercury. Don't worry, it's factory sealed and retains the heat for igniting the oil injected against it. When it is dull red, the flame is turned out, plug inserted and tightened, and a shot of compressed air at the right moment starts it. Reid kept it running many hours and it chugged along very smoothly. This engine powered Mohican Station which pumped crude oil for the Buckeye Pipe Line Company in Ohio. Photo 10 shows its beautifully restored vertical governor head.
Walking outside, I caught Photo 11 of the big Case tractor in operation. The boys look like they are having fun and many of the guests are entertained by its operation. Nearby, is the Jaeger air compressor, Photo 12, that provides the compressed air for starting the large engines such as the OD.
Returning to the Aultman-Taylor tractor, Photo 13 depicts Reid doing the starting. No compressed air assist here; just a large crank and a lot of muscle power! The engine is a massive four-cylinder horizontal with the heads toward the operator so that the rocker arms can be easily oiled. Photo 14 shows Reid and a friend operating the tractor. The exhaust note speaks up a bit on the small grade, and the big machine rolls along effortlessly.
Our hosts provided a table of hot dogs and meat balls with all the trimmings and it was so pleasant to get a goodie while chatting with old friends and making new ones. Finally, it was time to depart but not without taking Photo 15 of Reid with his parents, Marcia and Ellis. A great day, and I plan to attend again next year. Maybe some of our readers can also!
The museum is closed until April but special tours and visits can be arranged by prior notice. Please call the museum at 814-849-6883 for information. We look forward to a great 2014.