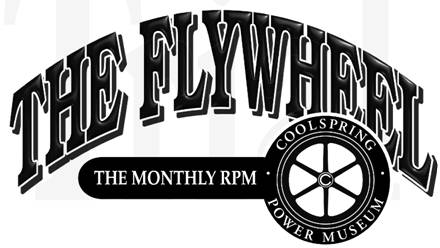 October 2013
The Engine from Paradise
By Paul Harvey
Summer has slipped away and Autumn is upon us. This is a glorious time of year with bright blue skies and crisp clear air. Too bad that it seems to quickly turn into the rigors of Winter! In a couple of weeks the museum will be hosting its big Fall Show, hopefully adorned with trees decorated with multi-color leaves. It is a friendly time with people filling the buildings for early evening engine runs, as well as attending all the daytime activities. This is our last event for the year and soon after the entire collection will be winterized and put to sleep until Springtime. We hope that you will be able to share this event with us.
During the Summer of 1967, I worked in DuBois and frequently took various back roads home; always looking for some engine "goodie." One afternoon, I was passing through a farming crossroads community called Paradise. It was the corner of two or three large farms on a beautiful, high, agricultural plateau. No wonder it had such a name! There, I spotted a large hopper-cooled engine on wheels that was parked on a barn bridge. I just had to inquire and was told they still used the engine and it was not for sale. Now jump to the present 46 years later. I had a phone call from a family in that area who had a 12 hp portable Associated engine and wished to sell it. Hmmm! Could it be the same one? And so the story unfolds about the "Engine from Paradise."
That weekend, Kevin and I made a trip to Paradise and met Rod Pifer, Jr. and Rod Pifer, Sr. Photo 1 shows what we found. The engine was "barn fresh" as collectors call an untouched vintage machine. They had just pulled it out from the barn two days before. After chatting a bit, I realized that it was the same engine that I had seen so long ago! Wow! What a feeling. It had slumbered in the barn for over thirty years untouched and still had compression. The engine is indeed a 12 hp portable Associated made in Waterloo, Iowa, about 1910. After some negotiating, the engine was in Coolspring that same day.
Photo 2 shows Rod Jr. and Rod Sr. posing with the engine. Rod Jr. related that his great grandfather, Jacob, purchased the engine brand new and it had always been used on the farm. They were very proud of this two ton machine and always stored it inside. In use, they would place the threshing machine in the barn and back the engine onto ramps on the barn bridge to level it. It would then be belted to the thresher which could blow the straw from the grain high into the lofts of the huge barn. The grain would then be stored in the granary, which was a rodent proof (hopefully) part of the barn. The engine then was owned by grandfather, Lyle, then Rod Sr. and now Rod Jr. Little Darren was running around trying to help. Five generations living in Paradise!
As Kevin and I carefully examined the engine, we realized that Associated did not provide a canopy over their engines but this one had a roof. Note Photo 3. Rod explained that Jacob was also a blacksmith and had fabricated the roof from his own design. It is a beautiful accomplishment with precision forged supports and curved beams supporting the roof. The factory could not have done better. It will always retain this canopy.
Photo 4 shows the Pifer homestead where five generations have lived. It commands a beautiful view of Paradise and the fields tapering away on all sides. The huge barn is just across the road and shown in Photo 5. Note the earthen barn bridge where the engine would be placed to work the machines inside. Here, the Associated slept for over thirty years. In its prime, the barn was certainly the center of the farm. The cattle could seek shelter in the ground floor while the lofts held the necessary hay and straw. The granary was a room on the main floor of the barn.
This engine was built by Associated Manufactures Co. of Waterloo, Iowa, in the 1910 to 1915 era. Their catalog claimed they were the world's largest gas engine builders. Indeed many were built and many still survive proving they had a dependable design. Almost any gas engine show will include a small Associated. However, the larger portable engines, such as our 12 hp model, are rare. Associated also built an extensive line of implements for their engines to operate; just about anything the farmer might need. Photo 6 displays their big factories located in Waterloo. It is interesting to note at that time prosperity was shown by many chimneys spewing black smoke.
The Associated engines all had unique names ranging from the small, air cooled, 1 1/2 hp "Busy Boy." The next size was the "Chore Boy," progressing to the "Hired Man," "Farm Hand," and the "Mule Team" series of larger engines. Our engine is the Associated Portable "Twelve Mule Team" translating to 12 hp! Our engine sports an eight inch cylinder bore with a 13 inch stroke and is rated at 250 rpm. A reprint shows this engine in Photo 7. These were painted bright red with a silver cylinder and very attractive. Note that it originally cost $395.00 with the magneto being a $10.00 option. Quite an investment for the farmer in 1910.
After its long rest, the engine came to life on September 6. Doug and Nate spent two days cleaning and giving meticulous attention to restoring the battery box, fuel tank and ignitor to look exactly as it was on the farm. It will not be painted but just oiled to preserve the patina as it was found. They are shown in Photo 8 after a successful run. It will be in operation at the Fall Show for all to see and enjoy!
Coolspring Power Museum is again at the end of another successful season. Our big Fall Show and Swap Meet will be held on October 17, 18, and 19, 2013. After that, visits are available by prior arrangement. Please call 814-849-6883 for more information. Our 2014 season will feature Foreign Engines so keep watching the website for dates and events. See you then!