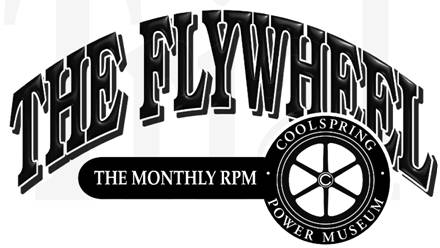 February 2013
Reuben Willetts: An Unsung Genius
By Paul Harvey
With the onslaught of the January cold and snow, combined with the short days, I decided to resurrect a forgotten project of writing a history of the engines built in Butler, PA. The museum featured Butler County engines at the 2007 June Expo and it was very successful. To prepare, I had done some research at the Butler Library and the Butler County Historical Society. The information that I gained was fascinating and I had thought that it could make a great issue of our Bores and Strokes booklets. It was a good thought but has escaped me until now.
Butler engines have always fascinated me perhaps because there were more engines built in that city than any other city in Pennsylvania. The reason for the proliferation of makers was, of course, the oil boom. The oil needed pumped and power was required to do that. So a total of ten manufacturers got into the game of building gas engines that were reputed to be better than the competition. Some were two-cycle and other were four-cycle but there was a noted similarity in all. Perhaps those gents had a weekly night out to share their ideas! Some manufacturers made thousands and some made only a few, but all carried tell-tale distinctions that identified where they were made and that was Butler.
There were only two or three foundries in Butler so that accounted to the similarities of the castings. And all were painted green! However, they did share simple and practical designs and rugged construction that made them very adaptable to oil field use.
The ten firms were; 1. Ball (Butler Engine and Foundry), 2. Braden, 3. Walt. Campbell, 4. Etna, 5. Evans, 6. Palm, 7. Phillips, 8. Spang, 9. McIntire & Willetts, and 10. Wise.
While reviewing this list, I became aware that I had no information on McIntire and Willetts although the museum does have one example in very poor repair and awaiting restoration. Doing further research, I discovered Reuben Willetts and all his varied contributions to the Butler gas engine history. And so, he will be the subject of this issue.
Reuben's parents immigrated from England and he was born in Pittsburgh, PA on January 29, 1859. He married Olive Loretta Hughes on August 2, 1883 in Beaver Falls, PA. Their first two children, Elwood and Charles, were born there also. Laura Elizabeth was born in 1898 in Harmony, PA. Unsure exactly when, the family moved to Butler, PA and he passed away there on April 22, 1928. During his lifetime, he had an interesting and successful career of inventing and manufacturing.
We first find Reuben in 1896 working with his brother George and Dr. Edwin Fithian to develop a successful gas engine. In 1897, they had a working two horsepower prototype engine that seemed promising. The Willetts wished to go into production but Fithian insisted on more development. Dr. Fithian offered to sell his interest in the project for $900.00 but the Willetts could not afford such a sum. So in return, Fithian bought the Willetts interests for the same price. We have no idea what this engine might have looked like but, by 1898, Fithian partnered with John Carruthers to form the Bessemer company and marketed a two-cycle conversion cylinder for transforming steam engines into gas engines-- hence the first "half breed engine" had been invented. Refer to Photo 1 for this engine. Dr. Fithian obtained a patent for this engine in 1898. It is reasonable that the Willetts engine was also two-cycle and very similar.
In 1902, Reuben was working for Charles A. Braden and witnessed the re-issue of Braden's 1898 patent for a combination of a gas and steam engine. It is unclear if any of these engines were built but they are advertised in the Leidecker Tool Company, Marietta, Ohio, catalog of 1902. This engine simply used a gas cylinder and steam cylinder in tandem so that either one could be used depending on the need. See Photo 2 for the catalog illustration. It seems that Braden invented the first of the combination engines and several other makers shortly followed with their own designs; Palm of Butler being one. Mr. Braden formed the Braden Gas Engine Company of Butler and successfully built two-cycle gas engines, two-cycle conversion cylinders and clutches.
Reuben patented a very successful gas engine clutch in 1901 and assigned it to the Braden Gas Engine Company. Interestingly, his brother, Charles also patented a clutch but it was too complicated to work well. The museum's McIntire & Willetts engine does have a Braden clutch. Refer to Photo 3 for the patent drawing. I have seen many other Braden Clutches over the years.
In 1903, Reuben partnered with C. E. McIntire to form the McIntire and Willetts Gas Engine Company. His son, Charles, now 18 years old, apprenticed in this shop. One of the first ventures was to build a prototype of a mini-submarine designed by V. W. Sipe. Photo 4 is a copy of the only surviving picture of this vessel and no other information has been found. Hard to see on the photo, it appears to be about 15 ft. long and 6 ft. in diameter. With no close by available water, this venture is difficult to understand. Photo 5 shows the museum's McIntire and Willetts engine awaiting restoration. It is a two-cycle with the name cast into the base as well as the side of the cylinder. This is so common with the Butler engines. However, the intake valve is top mounted and closer to the near side and the cross over ports are apparent on the near side. Overall, it is vaguely similar to the Phillips. It appears to be a very practical design but no other is known to survive. Perhaps it was very limited production.
During 1906, Reuben obtained his second patent. It was for a very unusual double-acting engine that did not appear to be practical to oil field use. There is no evidence that it ever went into production. Refer to Photo 6 for the patent drawing. There are opposed pistons with a common head between them. Tie rods reach from the front piston to the crosshead. Consistent with his designs, it is two-cycle. It is just another mystery that enshrouds so many early manufacturers lives!
Photo 7 is a picture of Reuben in the early 1900s. At that time, he and his family lived at 3 Linden Avenue in Butler.
Later in 1906, Reuben obtained another patent and this was important to the oil industry. He designed a reversing clutch that used a unique system of planetary gears. An in-and-out clutch that provided one direction only was fine for pumping an oil well, but servicing the well required a controlled forward and reverse operation. four-cycle gas engines run in one direction only, and although it is possible to reverse a two-cycle engine this required stopping it and restarting in the reverse direction. As shown in Photo 8, Reuben's patent provided this convenience with the movement of one lever.
By 1912, he had opened his own auto repair garage on McKean Street with his son, Charles. Refer to Photo 9. This was named R. Willetts and Son. Apparently he "retired" to be an auto mechanic and continued there until his death in 1928, There is no further evidence that he continued in gas engine research and development.
List of Reuben Willett's Patents
1. 416,978 Dec. 10, 1889 Boiler feed water regulator.
2. 610,190 Mar. 22, 1898 Governor for gas engine.
3. 670,264 Mar. 19, 1901 Friction Clutch
4. 797,880 Aug. 22, 1905 Connecting Rod for truck pistons
5. 830,270 Sept. 4, 1906 Gas Engine
6. 832,439 Oct. 2. 1906 Reversing Clutch
It is my hope that the reader has enjoyed this brief tour into the life of Butler's "unsung genius." I would certainly appreciate any further information about any of the topics in this article; as well as additions and corrections. It is factual as far as I can find but includes my interpretations and opinions.
Despite the weather, spring is fast approaching with the 2013 CPM season. The museum opens on April 20 & 21 with limited engine operation. For 2013, we feature "Oil Engines" which means any engine with compression ignition. Our big June Expo is June 13, 14, and 15, 2013 with museum equipment operating, a field full of exhibitors, big flea market, and plenty of great food. Please plan to attend. Then, July 20 will be History Day with the Truck Show. It will include an opportunity to chat with all our engineers. Our open weekends for 2013 are: April 20 & 21; May 18 & 19; June Expo 13, 14, & 15, July 20 & 21 with History Day the 20th; August 17 & 18; September 21 & 22, and closing on October 17, 18, and 19 during the Fall Show and Swap Meet.
For more information please call 814-649-6883. See you then!