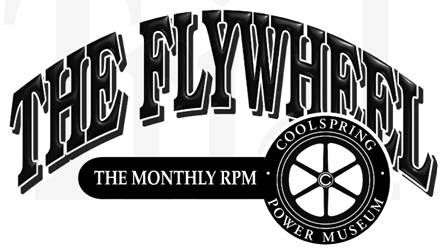 September 2012
An Experiment
By Paul Harvey
It has long been the desire of the museum to have some "mini" events for our visitors in the months between the big June and October shows. This year, it was decided that for the July open weekend we would try a History Day. Soon after, we decided to also have an Old Car and Truck Show at the same time. With much hard work developing this event, we were glad to say that it was a success and enjoyed by all who attended.
For the History Day, 100 tickets were sold that included the admission, free catered lunch, and personal tours of all the buildings. A special price was given by securing an advance ticket. All our volunteer engineers worked hard to have choice engines in each building running and took time to give a personal explanation of what they were doing. We wanted an event that individual attention could be given to each guest without the rush during the shows. We also had tour guides to help locate displays and explain the equipment. This worked very well and all visitors had time to ask questions and tour around to see what they were most interested in. We also provided maps of the grounds that showed the location of the displays.
The Car and Truck Show, in conjunction with History Day also was a success. Anyone bringing in a vehicle 25 years or older was given free admission and could then buy the lunch and attend all the tours. We hoped that this would bring more interesting cars and trucks. At one time 42 were counted and some were coming and going all day at their pleasure. There were some fantastic big trucks which were the main emphasis but many fine and enjoyable cars attended. This gave the visitor some interesting viewing besides the museum engines. So, the "experiment" was successful and will be repeated again next year during the July Open Weekend.
Of course, all day visitors were welcome but had to pay the usual admission. They were then free to buy lunch if they wished and attend all the tours and visit with the engineers.
Photo 1 shows the registration tent in the morning with the crew ready to sign up the ticket holders with an wrist band that would give them all the amenities included. They also directed the antique vehicles to their display area. They handled the "start up" schedule of the large engines and kept all events announced over the PA system. This was a job well done and kept everything moving well.
Photo 2 is a photo of the gift shop as it opens for business. This seems to be a popular stop and the ladies are happy to sell their wares as well as answer questions, give directions, and sign up new members. Make sure to stop by when visiting the museum to just chat and say hello.
Photo 3 shows a great display of the cars and trucks. Our volunteer coordinator made a nice line up with trucks on one side and the cars on the other then welcomed and visited with all who attended. So many of the History Day visitors also enjoyed this varied and interesting display.
Photo 4 displays some of the large trucks that attended. They were all very interesting and not seen in so many local car shows. We are looking for more next year!
Photo 5 shows some of the great antique cars. From the tiny Crossley station wagon to the large cars of the 1970s, all brought back memories. We appreciate all who attended.
Photo 6 is lunch being prepared. Included with the History Day ticket were two large hot dogs, baked beans, and homemade macaroni salad, plus a choice of desert. It was served in the Pedersen Pavilion and was well enjoyed.
Photo 7 is a display of museum tractors. We are hoping that more can attend next year.
Photo 8 is a nice old International truck with a small John Deere tractor. A great combination display and we had one other similar display.
We plan to make the History Day in conjunction with a Car and Truck show an annual event at the July Open Weekend. Please watch these publications and our website for details next year. Tune up your car or truck for a fun event or plan to buy an advance ticket for a personal tour of the museum.
Our next open weekend will be September 15 and 16, and then the big Expo and Swap Meet on October 18, 19, and 20, 2012. That will be the final event of the museum for the year so please try to attend. For more information, please call 814-849-6883. Come and enjoy a great show. See you then!