<![if !vml]>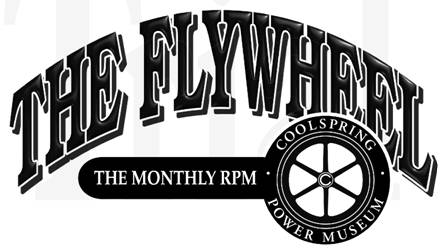 <![endif]>
April 2012
A West Virginia Weekend
By Paul Harvey
As I am writing this article, the weather is still cool and blustery and, although work has progressed on the 600 hp Snow engine all during the winter, the museum is still asleep. But now there are sure signs of spring as just last weekend I saw a pair of robins and now have three crocus blooming. We are preparing for our mid-March meeting to plan the years activities and then another busy year will begin. However, it is also a good time to reflect back on the activities of last fall and that becomes the subject of this article.
During the October, 2011 show, I had the opportunity to meet two new guests to the Coolspring Power Museum. They were Johnnie and Kathy Boston from Harrisville, West Virginia. After a tour here, our conversation turned to the old West Virginia oil fields and I learned that they hosted a small show that would be held in mid-November. See Photo 1 as they stand by their "pride and joy" display. After a bit more chatting, it was decided that a group from Coolspring would visit the "By the Lake Show" to be held November 11 through 13, 2011 near Harrisville.
I felt very excited about the newly planned adventure. It meant a lot to me as John Wilcox and I had explored this area in the late 1960s and early 1970s and I had not been back since. The Burning Spring area came in just a few months after Drake Well and the Volcano area was the next year. All this within an easy drive of Harrisville. This was a very historic area and had the earliest oil production in West Virginia and I just wondered how much would be left and what changes had happened. I was not to be disappointed!
We left on Friday morning, November 11, with some snow on the ground. As we passed Morgantown, WV, the sky became crystal clear with the promise of a great weekend of beautiful weather. We took I 79 to Clarksburg then headed west on US 50. Gradually it began to look like West Virginia with many small farms tucked into the narrow "hollers" between the many steep hills. And I began to see familiar landmarks that I recalled from years before! We finally turned south on a state road that was one curve after the other. Finally to Harrisville and to the show grounds.
As we walked into the show grounds, we were made welcome by Johnnie. After chatting, he took us to see his prize, a complete engine house and walking beam pumping power all mounted on a trailer. See Photo 2. The unit was the Russell Number 6 well and his family had pumped it for four generations. This well was the last one started by his Granddad Eb, Uncle Pete and his Father and he saved it as a tribute to their memory. It is powered by a 15 hp Reid engine and operated until 1995 when he preserved it. This great display is 95% complete, only a few boards have been replaced, and even contains his Dad's gloves. It is an amazing display of one man's dedication to his family heritage and to the oil industry and is well worth the trip to see in operation.
We were also delighted to see Johnnie's big 70 hp Bessemer compressor engine in operation. Note Photo 3. This engine was used to compress natural gas and now runs beautifully to please all who see. When CPM features the Bessemer engine, I am sure that Johnnie will bring it to display. But there was so much more to see at the show. Four rows of engines many oilfield and many operating plus many tractors and all kinds of other interesting equipment made a great show. It certainly reminded us of Coolspring in its early days. Note Photo 4 which shows a nice South Penn engine that was made in Parkersburg, WV. These were used exclusively for oil well pumping.
As evening was fast approaching, we left the show grounds and headed to the Log Cabin Bed and Breakfast where we had reservations for the next two nights. After about 10 miles on twisty, up and down roads so typical of West Virginia, we came upon on small lane and followed to the most beautiful cabin imaginable. One place, between a rock wall and creek, I had to make two back ups to negotiate! Our cabin was a reproduction 1820s that was made from local logs but completely modern inside. Note Photo 5. This was so remote and quiet. Next morning, our hosts brought over a hearty hot breakfast and we were back to the show again.
About noon we bid Johnnie and Kathy goodbye and took off for some exploring into the old oil fields. I especially wanted to visit the Volcano area and so we were off. Volcano, WV was an oil boom town very much like Pithole, PA. Oil was discovered in 1860 and it flowed from the wells "like a volcano." This oil was found at the 360 foot depth and was a green pure substance that could be used for lubricating right from the wells. The demand was very great with the railroads being one of the main customers. In 1874, W. C. Stiles invented the "endless cable" method of pumping where a central power operated a cable system similar to a very long belt that looped over jacks by a pulley and beam system and then returned to the power house. It actually was so successful that one unit operated until 1974. However, a disastrous fire destroyed the town in 1879 and it never recovered. Another page of oil history then faded into oblivion. We spent the warm afternoon walking though the forest and found many artifacts. Photo 6 shows the remains of a pump jack. I recognized many landmarks, but only two houses and scattered remnants mark the former glory of Volcano.
On Sunday morning, we headed to Belpre, Ohio to visit our member Rod Fielder and see his collection. Rod has extensive knowledge of WV and Ohio engines and owns many fine examples. Photo 7 shows Rod with a new steam engine that he just acquired. After a good visit, Rod accompanied us to the Parkersburg, WV Oil and Gas Museum. This is a big four story brick building that was at one time a hardware store. It is now crammed full of all kinds of oil field history and is a great visit. We were delighted to spend the afternoon looking at all kinds of mechanical artifacts and paging through many books of history. Photo 8 shows the massive building. There is also a very extensive outside display including gas and steam engines as well as oil pumping equipment. Photo 9 show a very early Pattin Brothers engine that was built in Marietta, Ohio. As evening was now approaching, we bid "so long" to Rod and started the journey home being very satisfied with our West Virginia weekend.
As you are reading this, the Coolspring Power Museum will soon open for our 2012 season. This year we will feature Ohio Manufactured Engines as well as 125 years of Foos. We are looking forward to some great exhibits and a great show. Our first open weekend will be April 21 and 22, 2012. For more information, please call 814-849-6883. See you then!!