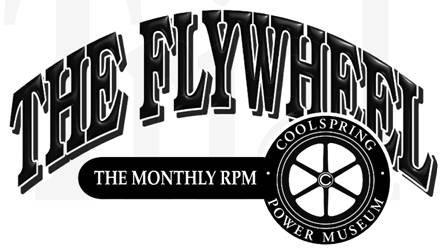 October 2011
A Successful Weekend
By Paul Harvey
The museum is open to visitors during the Summer on the third weekend of each month. June and October are our big shows but in April, May, July, August and September we welcome visitors. Clark Colby gives an excellent and informative continuous guided tour and one can join anytime. Our hours for these tours are 10 am to 5 pm on both Saturday and Sunday. Please check our Events page for the schedule or call us at 814-849-6883.
We have transformed these weekends from being just a work session to now be a visitor friendly experience. We try to have some equipment running while starting others as the tour progresses. The starting procedure on the large engines is always fascinating! When our volunteers are working on a project, you are encouraged to chat with them and they will be happy to explain what they are doing. Most visitors agree that it is informative to learn about the engines and equipment by seeing progress made on it.
This past August was especially successful to all who attended. We had near perfect weather and about 100 visitors each day. Clark had a big following with his tour as well as others just strolling about enjoying the equipment and the grounds. Our volunteer crew provided entertainment with many engines running and new developments happening. It is my hope that you will enjoy some highlights of that weekend.
Photo 1 shows a line of parked cars and motorcycles on the grounds to give an idea of the attendance. There is always plenty of parking available as well as cold pop and water. Food and snacks are always close by. The new restroom facility provides convenience to all. The gift shop is open during these times and the new Coolspring book is available there as well as so many other items.
Photo 2 shows Stewart McKinley and the 25 hp Pattin Brothers engine. Stewart has taken a liking to this engine and is always ready to give it a run. It is a four-cycle, hit and miss governed engine built in Marietta, Ohio for oil field service. It came from the late Dr. John Wilcox's collection and so many years ago I recall John starting it for me when it was still on location in south-eastern Ohio. It was on an impossibly steep hillside with a creek just below and I never did understand how John was able to rig it out singlehandedly! Between Stewart and the museum, we have one of the most complete collections of Pattin Brothers engines anywhere.
Next is Photo 3 of Ben Egloff and his 80 hp Bessemer display. He actually moved a complete building and huge engine to the museum and re-erected it as it originally was. The engine-compressor unit provided compressed air to pump oil wells in the Kane, PA area in the 1920s. He is smiling because it was the first run for the engine and it performed so nicely. The 10 inch exhaust pipe makes sweet "stack music." It is interesting to note the open flame gas lights in the background which were the common lighting used in these installations.
Photos 4 and 5 actually go together and depict an oil field pumping jack operated by a gas engine. It is running in these photos. The pump jack is a rather rare Hanley and Bird item made in their Lewis Run shops in the 1930s and donated to the museum by them. It is in good condition and would have pumped a well about 2,000 feet deep. It is now located in a woodlands setting and certainly looks right at home going up and down over an imaginary well. The engine is a 1 ½ hp Fairbanks Morse throttling engine owned by Stewart McKinley and powers the pump jack by means of a flat belt drive. It makes an ideal combination and brings back such good memories of when similar units were common in the oil field. The smell of the exhaust, the exhaust note and the pump motion makes such a nostalgic moment for one to enjoy.
Photo 6 shows Ben Egloff running the museum's twin-cylinder Westinghouse engine. This extremely rare machine had not run for such a long time so it seemed appropriate to revive it for the visitors to enjoy. This engine and its generator were built by the Westinghouse Company of East Pittsburg, PA and designed by the chief engineer, Edmund Rudd. It is interesting that Rudd went on to design hot water tanks and that name continues today. This unit was donated to the museum by Blaw-Knox Rolls of Wheeling, WV and was used to provide emergency power to the foundry crane in case of commercial power failure. It could have been disastrous to have a huge ladle of white hot iron harden and not have the electricity to dump it.
Photo 7 is Chris Austin on his antique D4 Caterpillar dozer. He is leveling the shale around the museum's two new buildings. Perhaps the old Cat is not as fast as a new machine but the slow turning engine sounds so nice and it is fun to watch him hand start the pony motor that starts the diesel. Besides the museum's extensive collection of gas engines, there are always some old tractors, dozers and trucks to look and watch run. This diversity helps make Coolspring more interesting to all who attend.
As the nights now become frosty and the days so much shorter, we realize that our museum is rapidly coming to a close and soon all will be winterized to await another season. Our last big event of 2011 is the Fall Show and Swap Meet which will be held on October 13, 14, and 15, 2011. Please try to attend this big event as it will be the last time of the year to see our equipment in operation. Of course, there will be plenty of exhibitors filling the fields as well as a large flea market. There is always good food and good friends to chat with. For more information, please see our Events page or call at 814-849-6883. Hope to see you there.