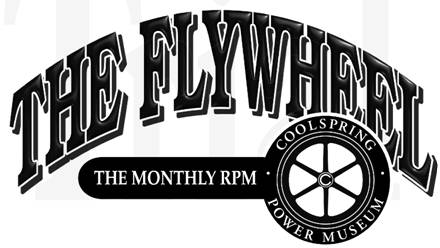 August 2011
June Show Report: Another Good One!!!
By Paul Harvey
By the time this is being read, the big June Show of Coolspring Power Museum is just a pleasant memory. This year the museum featured engines built in the state of New York and we had a fine showing. Many rare and interesting ones filled the exhibitor's field and, joined with those of the museum, provided a great display. In all, everyone seemed to have a great time and we were blessed with another safe event.
Of course, Coolspring Shows are always known for having rain and this year was no disappointment! Thursday afternoon saw one very hard shower but spirits were not dampened too much and the rest of the weekend was bathed in warm sunshine.
The grounds were completely filled with engine exhibitors who were displaying their prize New York engines as well as many other fine displays. The flea market was full and saw a brisk trade and parts and goodies. Evenings were spent in the museum buildings watching many engines being started and run. Friday evening was special with a spaghetti dinner at the Oliver Township Social Center followed by a special presentation on the George Pohl engine held at the Coolspring Presbyterian Church. To conclude Friday evening, museum volunteers started several of the large engines. What an evening!! Overall, it was a good show with everything going so well and much fellowship being shared.
As at every show, I am always surprised to see so many engines that I have never seen or heard of before. It makes a very enjoyable learning experience to chat with the owners of their unique prizes and see them operate. So here are some of the great and unusual engines that were displayed during our show.
Photo 1 shows Tom Miller of Knapp Creek, NY about to start his two-cylinder, two-cycle Clark Bobcat engine. This engine is 40 hp and was built by Clark Bros. of Olean, NY in the early 1940s. Clark is now owned by Dresser-Rand and still makes a line of heavy duty engines for stationary use. Tom is an oil producer and actually used this engine on one of his leases until this Spring when he decided to replace it with a more modern unit. I think that he had enough of the manual starting in cold weather! Now it makes a great show piece and runs so well.
Photo 2 is a very early sideshaft Myrick engine also built in Olean, NY. About 1915, Myrick Machine Company settled on building a line of small vertical, air cooled engines and pump jacks. They lasted into the early 1950s with that design. This unique early Myrick belongs to Ed Kuntz of St. Mary's, PA. It is the only one known.
Photo 3 is a portable Westinghouse engine built in Schenectady, NY. This engine is extremely rare and so well restored. It starts easily and runs well. It was built in the 1890s by the father of George Westinghouse who was known for his train air brake design. George built a great empire in Pittsburgh, PA building all kinds of heavy equipment and electrical devices.
Photo 4 shows a fine example of the durable 4 hp Myrick Eclipse engine built in Olean, NY. These engines were used extensively on single well pumping units and Myrick also built the pump jacks that the engines drove. These engines were vertical, air cooled, and hit and miss governed. Most were hot tube ignition but magneto and spark plug was also offered.
A very rare Rumsey-Williams is our fifth engine, Photo 5. This design predates the Westinghouse and the similarity can be seen. It was built in St. Johnsville, NY about 1890. Most unique is the one piece casting that makes the engine frame as well as the cart. This engine would have been pulled by a team of horses from place to place to do threshing and other farm work. Rumsey then moved to Ripley, NY and built an unusual horizontal engine and finally to Friendship, NY where they produced a more conventional farm engine. Not many firms shared this diversity or perseverance.
Photo 6 is a Farmers Favorite engine built by the George Pohl Manufacturing Company of Vernon, NY. It is about 10 hp. This example is a hopper cooled, sideshaft, hit and miss farm engine on a portable horse drawn cart. At this time, Pohl was facing fierce competition from the other farm engine makers such as Fairbanks-Morse and International and had to modify their classic design to try to survive. Although they made a quality product, they disappeared from the market in 1918. This is one of their last products.
Photo 7 shows an early George Pohl "Advance" engine. This beautifully restored 16 hp portable engine represents the first design and the one marketed as the Advance. It is a well finished, sideshaft and vertical governor engine on the original horse drawn cart. There was also a firm in Hamilton, Ohio known as the Advance that made the Hamilton engine which was identical. The connection is not known.
Photo 8 is the Mietz Oil Engine made in New York City as the Mietz and Weiss. These are two-cycle directed injection oil engines that burned kerosene and were very successful. They were built on the patent of Carl Weiss who designed an engine to circumvent the Diesel patents. These engines required a bulb in the head to be heated red hot for starting, then ignition would follow without any sparking device. Charter Engine Company of Sterling, Illinois actually made this engine having assumed production after M&W faded away. All these engines were very well built and so many survive. I actually found one in Alaska several years ago.
Our last featured engine, Photo 9, is an Olin made in Buffalo, NY. This four hp model is beautifully complete and runs so well. It has the electric ignitor although most were hot tube. Fred Olin had many patents for gas engine design and this is his 1898 one. It is interesting to note that the Titusville Iron Works also built an Olin according to the 1896 patent. No connection has been established. The Buffalo Olins are well done, heavy industrial engines and were built for long running with minimal attention.
It is my hope that the reader has enjoyed this tour of our June Show and some of the fine engines displayed. Please take some time to visit Coolspring Power Museum and see our displays. For schedules, visit our Events page or call 814-849-6883.
See you there!!