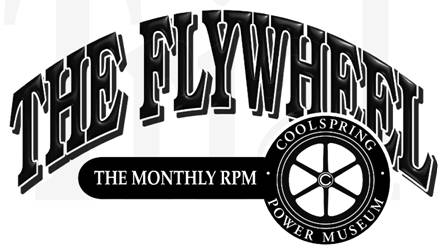 June 2011
CPM Spotlights the Engines Built in
New York State
By Paul Harvey
June is upon us and that means one thing in Coolspring; the June Engine Show! Our big event will take place June 16, 17, and 18, 2011 at Coolspring Power Museum. That means for three days the museum is open and its exhibits are running. There will also be about 300 guest exhibitors in the fields running their treasures. We will have home made ice cream cranked out by the New Holland engines, food vendors and a flea market. We hope you will be able to attend!
The featured engines this year will be those built in the State of New York. Of course, there will be plenty of other interesting equipment. The museum has quite a few New York engines and some will be featured in this issue. In preparing this article, I was surprised at the diversity of these machines. I'm sure that our exhibitors will have their New York prizes tuned up for display and there will be some that we have never heard of. It will make an interesting show.
There were over 100 different engines built in New York and their design and purpose varied according to the locality in which they were made. The southwestern part of the state was included in the old oil field and so these engines were tailored to that need. This meant that they were heavy, durable and somewhat crude for oil field service. Some examples include McEwen Bros, Clark and Norton, and Howden. The Buffalo area was unique for producing heavy, well finished industrial engines capable of long service. Most saw use in that area although examples have been found all over the country. These include the Olin, Ruger, Lazier and Alberger as well as others.
The Erie Barge Canal area and the Hudson River valley produced many different and unique marine engines. Many of these builders produced only a few then slipped into oblivion. The Buffalo Marine is an excellent example. The fertile farmland in the finger lakes area produced several well finished agricultural engines. Most farm engines were simple and durable, but not these. Two well known examples are the George Pohl and the Rumsey. Last was New York City which at the turn of the century produced huge, capable industrial equipment. These were designed to operate steel mills and large factories. Smaller models were used in machine shops, print shops and wherever power was needed. Included are the DeLaVergne, the Koerting, and the Mietz and Weiss. There were many other builders that didn't fit into these categories but were equally important. Most made only a limited number of engines before the competition forced them to disappear.
The first engine to be featured is the Mietz and Weiss. Photo 1 shows the 6 hp model displayed here. The design dates from 1894 and is a two-cycle, direct injection oil engine. It could use kerosene, diesel, or crude oil as fuel. The early models governed hit and miss, such as this one, and the later ones had throttling governing. They were very successful and a large number survive. I even saw one in Alaska! This engine came from a farm in West Alexander, PA. It is a dependable runner and always pleases the visitors.
The second engine shown, Photo 2, is the Star. They are very early and have the pleasing "eastern coast" lines displaying excellent machine work and sharp horizontal and vertical contrast. The frame or base rises vertically to the low mounted horizontal cylinder. It was built in New York City and displays a fine vertical governor head. The museum is happy to display two Stars. It shows similarity to the Vreeland built in New York City and the White and Middleton built in Baltimore, as well as other east coast engines. Unfortunately, very few of these fine engines still exist.
Third on the list is our 20 hp twin-cylinder vertical Nash direct connected to a DC generator, Photo 3. These engines, designed by Louis Hallock Nash (no connection to the car), were built by the National Meter Company of New York City. Sizes ranged from tiny single-cylinder models to huge four-cylinder ones of 400 hp. The Vanderbilt Mansion in North Carolina still has its 25 hp Nash engine and generator in mint condition. Our engine was originally used to supply electricity to a hotel in Lincoln, New Hampshire. We are happy to have this engine as well as a 25 hp twin. About one dozen Nash engines still exist.
Number 4 is our cute little Buffalo Marine engine, Photo 4. It features so much brass work and fine mechanism that it is difficult to imagine that is was ever practical. It was built for powering small boats on Lake Erie and produces 2 hp. Vintage is about 1900 and it is the only example known to exist. In later years, Buffalo produced a durable four-cylinder engine of 100 hp and these found extensive use being converted into oil field drilling engines.
Photo 5 shows our Rumsey, which is a typical New York state agricultural engine. It is well built featuring a side shaft and vertical governor. As with all New York farm engines, they had much more detail than those built in other locations throughout the country. Rumsey started in Ripley, NY with a very complicated design then moved to Friendship, NY about the turn of the century to build these engines. They were a small firm with very limited production and the competition with cheaper engines soon forced the company out of business. However, quite a few still survive including a very impressive 25 hp model.
Number 6 is an unusual design built for oil field service by the James Howden Company of Wellsville, NY, Photo 6. Howden was a Scottish firm that saw the opportunity to open a branch in the southern NY oil field. They were later absorbed by Clark and Norton, also of Wellsville. Howden built large compressing engines of two-cycle design with the engine cylinder on one side of the crank shaft and the compressor opposed on the other side. These large machines could not be started by hand but needed compressed air, so they built a miniature model to compress the starting air; hence this engine. These small compressor engines were built for intermittent use only and supplied with the larger models for starting. There are very few combination starting engines designed and ours in one of the three known Howden models.
Our seventh featured engine, Photo 7, is a small Buffalo Olin. It is a pleasantly done, heavy industrial engine competing with the others of the Buffalo market. We are unsure of its original use, but the hot tube might indicate that it went to the oil field. It governs on the hit and miss principle with the controlling weights in the timing gear. The original patent of Fred Olin was 1894 and this design was shown in 1897. It is interesting to note that Titusville Iron Works used the 1896 patent to make their "Titusville Olin" which was used extensively by South Penn (later Pennzoil) in all their oil field pumping powers. I have not been able to find any information to indicate any license agreement! About 8 Buffalo Olins survive.
Photo 8 shows our Alberger engine, 80 hp, built in Buffalo, NY. It is a tandem, single acting design meaning that is has two cylinders, one in front of the other with both pistons connected by a common rod. The piston closer to the crankshaft has a wrist pin with a connecting rod to the crank. There is a common side shaft extending the full length of the engine to operate the valves, governor and ignition. Very few manufacturers used this principle and even fewer engines survive. Ours is one of three Albergers in existence. This engine, built about 1900, powered the Mt. Jewett, PA water works and we are happy to also have the 8 by 12 inch bore and stroke Deane pump that it drove. We removed it in the late 1970s and were able to run it on location several times before bringing it to Coolspring.
The final engine, Photo 9, is a four-cylinder General Electric engine generator combination. It was built in Schenectady, NY and used on the Erie Barge canal to provide electricity to operate the locks. Vintage is about 1905 and it provided 25 KW of direct current power from its 50 hp. It is of four-cylinder design and well finished with a vertical governor and lots of brass work. It was said that the lock stations were beautiful displays open to the public to see the modern marvels. Great advertising to make an attractive machine! GE offered these combination units in 25 hp two-cylinder models and the four-cylinder one like this. Four examples are known to exist and all came from the Erie Barge Canal.
It is hoped that the reader will enjoy seeing the diversity of the engines made in our neighboring state to the north. There will be many more fascinating examples here for the June Show, both at the museum and the guest exhibitors. Remember the dates; June 16, 17 and 18, 2011. For more information, please see our web site at coolspringpowermuseum.org or call 814-849-6883. See you then!!